Viognier 2021
Lost Oak Winery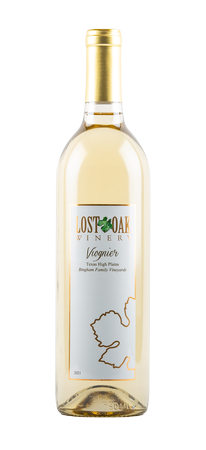 Viognier (Vee-own-yay) is a white grape that has its origins in the Rhone region of France. It is gaining in popularity all over the world. It tends to have a fuller body similar to a Chardonnay but with a more floral character in the aroma. It does well in Texas because it tends to require a warmer growing region. This makes it particularly suited for the Texas High Plains.
A bright and golden color clings to the glass as one swirls this Viognier. It opens up with aromas of golden apples, light magnolia, and a hint of soft minerality. This full-bodied wine clings to the mouth with flavors of ripe honeydew, spiced pear, and watermelon rind. The tropical flavors linger for a moment before giving way to a surprising zest of lemon and white peppercorn on the finish.
Pair with warm brie and bacon spinach dip, sausage-stuffed mushrooms, pesto and prawn pasta salad, classic chicken pot pie, or white chocolate lemon tart.
Viognier 100%