Our Team
With years of experience, a passion for wine, and a knack for hospitality, the team at Texas Wine Collective is here to make your wine dreams come true.
---
Beth Bayliss, General Manager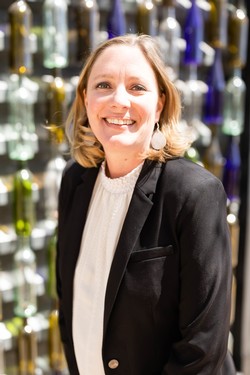 Beth Bayliss is the General Manager of the Texas Wine Collective (formally 4.0 Cellars), in Fredericksburg, TX. Beth leads and motivates the TWC team to successfully represent three Texas wineries (Brennan Vineyards, Lost Oak Winery and McPherson Cellars).

Beth Bayliss grew up in the Dallas area. After graduating from Texas State University in San Marcos, she moved to Austin where she lived for 11 years. Her interest in wine started after college and a visit to Napa in 2010. Beth completed her Level 1 Wine Certification in 2012. She began her career at Texas Wine Collective in 2014 as Tasting Room Coordinator and has advanced to Tasting Room Manager, Director of Operations and is now the General Manager. In her tenure, she has handled tasting room management, recruiting and hiring, logistics, and business development and has been instrumental in growing the Texas Wine Collective to be one of the most successful direct to consumer wineries in the state of Texas. Beth enjoys spending time with her husband and three pups, traveling to beach destinations, and drinking Texas wine!
Cristol Corpus, Director of Wine Clubs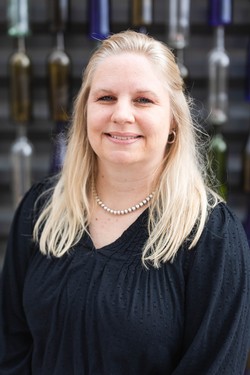 Cristol Corpus currently serves as the TWC Director of Wine Clubs. She joined the team in March 2015 as the Wedding and Event Manager and brought her love for the hospitality industry with her. Upon her college graduation, she began her career in event planning at Abilene Christian University. Cristol later spent five years with Omni Hotels before her career lead her to wine country. Raised in Johnson City, she was eager to return home to the beautiful Hill Country with her husband Andrew and their two children. She joined the staff at Becker Vineyards in 2007 and served as both the Wine Club & Events Manager. Becker Vineyards saw exponential growth during her tenure, and she was eager to share her knowledge with the 4.0 Cellars team on their journey to become one of the top tasting rooms in the Hill Country. She served as the Wedding and Event Manager until November of 2019, before transitioning into her current role as the Director of Wine Clubs. She believes, our wine club members are not only part of our core existence, but they are also our biggest ambassadors. Cristol's drive for perfection, attention to detail, and top customer service leads our wine club team to ensure overall member satisfaction, retention, and growth.
Amber Saidler, Director of Operations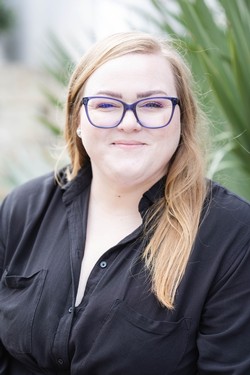 As Director of Operations at Texas Wine Collective, Amber Saidler uses her creativity, attention to detail, and focus on hospitality, as well as her party planning experience, to maintain our brand values and ensure positive guest experiences.
Born and raised in Clovis, New Mexico she couldn't wait to become a Texan. In 2009 she studied at Le Cordon Bleu in Dallas where she earned an Science degree in Culinary Arts and Restaurant Operations Management. Amber has created and develped every aspect of three F&B establisments in New Mexico and Texas. Amber has a aptitude for managment and for streamlining business operations. In 2016 Amber fell in love with the Hill Country on a weekend trip to Fredericksburg and the rest is history.
When she's not serving as TWC's "professional chaos coordinator," Amber can be found enjoying time with her husband Shane and their sweet, little boy James Watson.
Kristen Sheppard, Tasting Room Manager
As Kristen was born in California but got to Texas as fast as she could at the age of 7. She grew up watching her parents and siblings work in various management positions in the food and beverage and hospitality industries. Though her background includes varied experiences in fine dining and bar/music venue management, her passion for guest service began while she was living abroad and managing a four-bedroom catamaran bed and breakfast in Key West. Kristen's family eventually brought her back to the Texas Hill Country where she worked as the manager at the historic Hotel Faust in Comfort. Prior to joining the TWC team, she also managed the Meyer Inn and Camp Comfort, a collection of historic buildings that have been turned into boutique hotels. Kristen has two daughters and two grandchildren in Kerrville. When she's not at TWC, she enjoys painting, playing music with friends, and enjoying time with her family. .
Caroline Eidson, Business Development Manager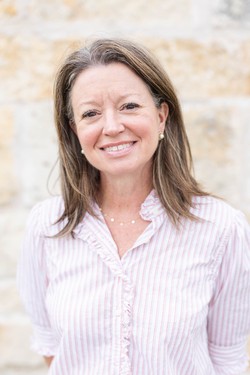 Caroline Eidson grew up in Houston, graduated from the University of Texas at Austin, and attended graduate school in Virginia. Before moving back to Texas in 2013, she worked in education as a teacher, administrator, consultant, and author. When she and her family moved to Fredericksburg, she discovered the Texas wine industry and decided to retire from education to pursue her love of wine (which she developed while grading student essays at night). Caroline began working at Texas Wine Collective as a server in 2014. She served as a TWC Lead/Brand Ambassador before moving into the Business Development Manager role where she gets to use her many contacts in the local community. Caroline co-owns Sierra Homes with her husband and works with several nonprofits in Fredericksburg, including the Hill Country SCPA and the Gillespie Country Historical Society. When she's not working or volunteering, she enjoys spending time with her husband, daughter, and their many animals, travelling, reading, playing games, walking her dog, and hanging out with friends.
Stacey Dudley, Wine Club Assistant Manager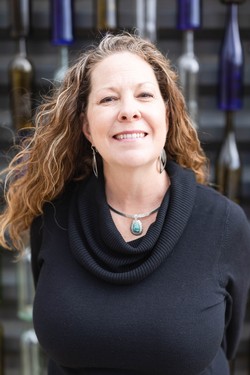 As Wine Club Assistant Manager, Stacey has a hand in almost every aspect of the Wine Club and is always happy to help our members with their Wine Club needs.
Stacey is originally from Katy but grew up in New Braunfels. After earning her degree in History from Southwest Texas State University, she moved from Austin to Dripping Springs in 2000. Her love for Texas wine began in the mid 90's when she began making frequent trips to the Fredericksburg area for wine tasting. She started working in the Tasting Room at Becker Vineyards in February 2002 where she expanded her knowledge about wine, how it is made, and the culture surrounding it. In 2016, she joined Texas Wine Collective (still 4.0 Cellars at that time) as Wine Club Coordinator before advancing to the Assistant Manager position. She is responsible for helping with membership updates, facilitating the shipping and pickup of orders, and answering any questions that our members may have. She loves meeting new members and catching up with others who have been members for years. In her spare time, Stacey enjoys time with family and friends, road trips, and furthering her love of wine.
Robert Herrera, Hospitality Coordinator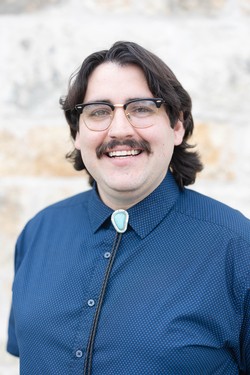 As TWC's Hospitality Coordinator, Robert Herrera uses his event and program coordinating experience to provide a welcoming and comfortable environment in which to learn about TWC wines. Robert grew up in the Texas Wine Industry, learning about wines while doing homework in the tasting room his mother ran and discovering a love of wine at a young age. He went on to discover a love of photography and earned his BFA in Documentary Photography at the School of Visual Arts in New York City before moving back to the Hill Country in 2019. Upon his return to the Hill Country, Robert worked as the Social Media Coordinator for Wedding Oak Winery before moving to Texas Wine Collective in 2022. When not nerding out about Texas Wines and Art, he can be found spending time with his partner Kyle (a lover of Texas wines as well) and their three hound dogs and hiking in the Texas Hill Country.
Jean Hoefliger, Consulting Winemaker
Jean Hoefliger is an artisan inherently driven to push the envelope, continually challenging the cognizance of, not only winemaking, but life in general. With an insatiable appetite for art, philosophy, and a good discussion, Jean thrives when his creativity and passion are left unbound by conventional thinking. Whether in the vineyard, at the winery, home, or around the table with friends - old and new - Jean brings these pursuits alive with playful banter and endearing jokes. In his winemaking, the essence of these experiences is brought to life through a particular craft of winemaking: fundamentally balanced by his experiences in Bordeaux, now left unbridled on the frontier of Napa Valley, making a delectable intersection between the past and future of wine. Jean Hoefliger was born and raised in Switzerland. His initial experience took him from Switzerland to California where he worked at Michel Schlumberger and Hartford Family in Sonoma followed by Bordeaux and South Africa, making wine at the esteemed estates of Chateau Carbonnieux, and Meerlust. Completing a winemaking and viticulture degree at the Swiss federal school of Changins, Jean made his way back to Bordeaux making wine at Chateau Lynch-Bages, and then moving back to California where he spent five years as winemaker for Newton Vineyard from 2001to 2005. In 2005 Jean started Alpha Omega Winery as the Winemaker and General Manager while concurrently building his consulting business with many projects around the world. At Alpha Omega he was running the business along with the production, specializing in Direct to Consumer strategy and National Sales. After 10 years, the business reached a size that required more time than he had, and he moved away from the business management to focus solely on winemaking. Two years later in 2019, Jean decided to shift his career to become a full time Consulting Winemaker, therefore, shifting his role within the Alpha Omega organization. Jean has built his client wineries over the years to include: Monteverro in Tuscany, Pact(e) in Burgundy, Perinet in Priorat, Tolosa Winery in Edna Valley, Grapeheart in Suisun Valley, V. Vineyards in Sonoma County, and Alpha Omega, The Debate, Clark-Claudon, Decades 5, Theorize, Sunshine Valley, MR Michel Rolland, AXR and Hill Family Estate all from Napa Valley. Jean's consulting business includes everything he loves from managing farming, to crafting world class wines, to advising on business strategies and even building and implementing the sales structure for clients. Jean's passion, knowledge, scientific training and innate ability put him in a unique position to take the best grapes around the world and transform them into wines and brands worthy of world class standing.
Dave Bryant, Consultant
After spending more than a decade leading luxury wineries in the Napa Valley, he and his family relocated to the Texas Hill Country in 2019. The opportunity to make a lasting impact on a small group of wineries and the industry as a whole, is what pulled him East.
Dave's experience includes leadership positions with well established brands (Alpha Omega Winery, John Anthony Vineyards, Anderson's Conn Valley Vineyards) and consulting for smaller start up brands. Dave's expertise in strategic planning, winery operations, and proven ability to deliver results, has established his reputation among industry veterans