A Unique Tasting Experience
---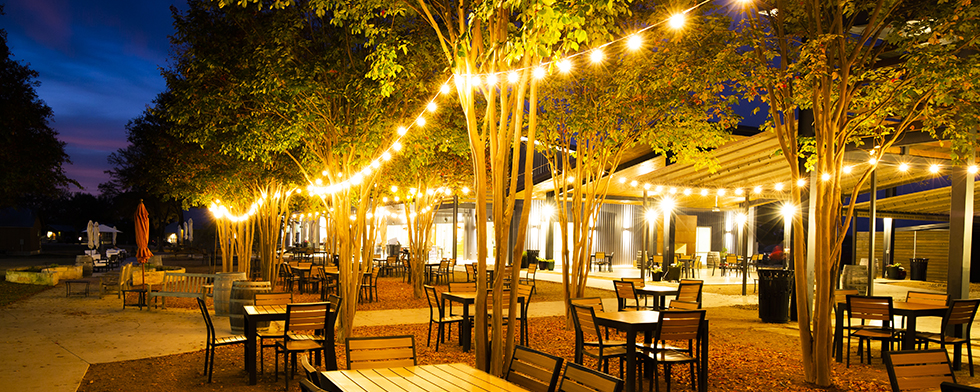 Whether you're trying Texas wines for the first time or are looking to expand your Texas wine collection, we have a unique experience for you. Come join us at the tasting bar in our expansive tasting room or opt for a more private setting in our boardroom. Either way, you'll learn about the Texas wine industry and sample a range of delicious wines.
We also offer tastings that feature Texas artisan cheeses. We hope you'll spend some time exploring all of the high-quality and memorable experiences we provide here.
Signature Tasting Experience
Because we represent three Texas winemakers who are constantly growing
more grapes and producing more wines, we feature a wide variety of wines, and our wine tastings change frequently. We create three tasting menus from our current wines, and with each menu, you'll try five wines. We're sure you'll find some new favorite wines among our many offerings. Click to Book Now.
Got a Large Group? For groups larger than 6: Click here.
Texas Cheese & Wine Experience
When it comes to delicious elegance, it's hard to beat our wine and cheese pairings. Our Texas Cheese & Wine Experience features five artisan cheeses from Texas cheesemakers and creameries around the state, including CKC Farms in Blanco, Eagle Mountain Farmhouse in Lipan, River Whey Creamery in Schertz, Veldhuizen Cheese in Dublin, and others. Book Now.
CIDER Tasting Experience
Enjoy 5 ciders during a tasting at Texas Wine Collective featuring Hye Cider. Hye Ciders signature cysers range in style from light, dry, and prosecco-like to more complex styles infusing flavors of fig and toasted peppercorn. Awarded Texas Cider Producer of the Year in the 2021 by the New York International Cider Competition. Book Now.
Rosé Room Experience
Our Rosé Room is the perfect place for small groups to try our wines in style and comfort. You are welcomed with a splash of sparkling wine or a featured rose before choosing your tasting menu. Enjoy noshing on a cheese and charcuterie board while you sip delicious wine and spin a classic record. Book Now.
Elevated Tasting Experience
A Texas Wine Collective Educator will guide you through a tasting of wines customized to your palate and paired with Texas cheeses. You'll enjoy the comfort of our Wine Club Lounge and will receive one complimentary TWC logo wine glass per person to take home. Book Now.
Wine Club Member Tasting
Enjoy your club member benefits 7 days a week by reserving a spot for you and your friends to do a tasting! You can use up to 4 complimentary tastings per membership on any tasting selected.
Our Wine Club Member Lounge is open Friday through Sunday, reservations will be placed in Wine Club Members Lounge based on availability and group size. Book Now
Seasonal Food & Wine Pairing
Celebrate once a month with a special food pairing with the Texas Wine Collective. Held in our Board Room, our wine and special food pairings are a memorable and relaxing way to learn more about our wines while sampling seasonal food/ snack items. Your host for the pairing will thoroughly explain each wine and how we pair our wines and food items. Take a look at our Event Calendar to see what's on the menu!
Private and Unique Food & Wine Pairing
Looking for something extra special and fun for your group? This private food and wine pairing, featuring five wines paired with fun foods, is personalized with your preferences in mind. Your host will share information about each wine, including why each wine pairs particularly well with specific foods. Food pairing options include the following: Little Debbie snacks, candies and other sweet treats, and items found on the cookie aisle. This special experience is limited to groups of 4 to 8 people at $45 per person Fridays and Saturdays only, based on availability. To reserve your time email info@texaswinecollective.com
To make a booking or for further information:
info@texaswinecollective.com
830-997-7470
Winter Hours
Monday - Saturday
10:00am - 5:30pm
Sunday
11:00am - 5:00pm
Address
10354 E US Hwy 290
Fredericksburg, TX 78624