Pat Brennan Tribute 2019
Brennan Vineyards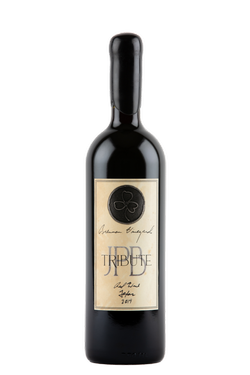 The Brennan Vineyards family announces the release of JPB Tribute, a bold red wine honoring the late Dr. Pat Brennan, founder of Brennan Vineyards. Dr. Brennan's favorite wines were fruit-forward, bold reds full of texture and depth. This complex blend of Nero d'Avola, Carmènére, Graciaño, and Cabernet Franc delivers just that. The label design showcases his personal connection with all Brennan Vineyards by featuring a handwritten script taken from winemaking notes over the years.
JPB Tribute was created to help the Texas Wine industry grow through a partnership with the Texas Wine Auction, focusing on two primary funding goals:
1. To support the Texas Hill Country hospitality community through funding and operation of a mobile medical clinic focused on wellness and preventative care. Much of the hospitality community earns an hourly wage with limited health benefits. There is a growing need to provide quality health options for hardworking hospitality employees who strive to grow the world-class Texas wine and tourism industry that attracts millions of visitors each year.
2. To advance the Texas Wine Industry through continuing education and research for winemaking and grape growing practices, by funding research and development initiatives through Texas A&M AgriLife Extension.
Tributes to the Brennan Vineyards' founder extend beyond this signature wine. The Texas Wine Auction has created The Pat Brennan Excellence in Texas Wine Award, which will be presented each spring at the Annual Texas Wine Auction. A fitting honor of its namesake, this award celebrates a special individual's passion, commitment, and significant impact on the Texas Wine Industry. Pat Brennan personified these admirable characteristics during his years of service to the Texas wine community and through his work to advance our industry. Pat was a Texas wine pioneer, a grape grower, and a respected leader — one who worked tirelessly to produce countless award-winning wines and build his well-respected winery, Brennan Vineyards. This award will bear his name to honor others who strive to continue the legacy of producing "Sophisticated Wines with Texas Roots."