Orange Muscat 2022
Lost Oak Winery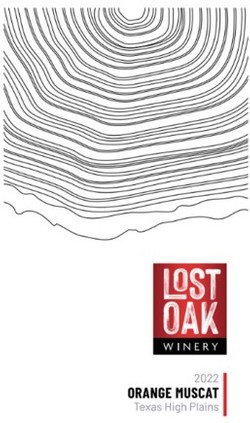 Orange Muscat is most commonly made into a sweet or dessert wine style, but it can be quite surprising with made dry. Sweet wine drinkers love it for the variety of flavors it offers white even dry wine drinkers can appreciate it for its smooth and easy-going profile.

The 2022 Orange Muscat has a delightfully faint straw color. Swirling in the glass reveals legs that cling forever to the glass. The intense aromas of sweet pea flowers, candied pear, honeycomb, and a hint of tangerine. One sip and your palate will be overwhelmed with flavors of ripe peach, mango, and nectar tempered with the essence of Meyer lemon on the lingering finish.

Pair with spring rolls with spicy peanut sauce, Korean cucumber salad, citrus chicken street tacos, Hawaiian pizza, or orange-infused vanilla ice cream.
Orange Muscat 100%