Texas Blind Tasting Series- Advance Blind- Master Class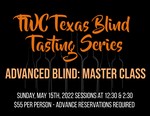 Blind tasting is the term for tasting and analyzing wines without seeing the label or knowing what the wine is. This activity is a great way to test your wine knowledge. The object is to ascertain such features as grape variety, region, vintage, and price of the wine purely through the act of seeing, smelling, and tasting the wine in the glass. This is the 3rd Blind Tasting in this series, Advance Blind: Master Class!
$55 Per Person- Advance Reservations Required.
Sessions at 12:30 and 2:30 - Click here to reserve your spot!