Pie in July Wine Pairing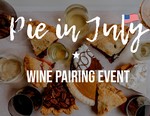 July is here! What better way to celebrate the season than with pie? What's that you say? "Pie and wine? How could two of my favorite things possibly go that well together?" Never fear. We're about to explain ourselves. Join us on Saturday, July 16th for our Pie in July Wine Pairing.
Sessions: 11:00, 1:00, 2:30 and 4:00pm in our Boardroom
Advance Reservations are required $45 per person Click here to book!