August 11, 2023 | Carl Hudson
World of Blends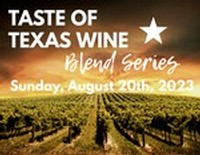 Another Texas Wine Collective Texas Tasting Series is planned for Sunday, 20-Aug-2023 with sessions at 12:30 and 2:30 pm. The topic is Blends and attendees will taste six wines produced from multi-variety grape blends – 3 from TWC winery partners, Brennan Vineyards, Lost Oak Winery, and McPherson Cellars – and 3 wines from other important wine regions – Rhône Valley, France, and Southern Australia.
Tasty food bites will be provided to accompany the wines. Advance registration and payment are required. See the www.texaswinecollective.com website.
Wines blended from multiple grape varieties are very important across the wine world. In fact, most wines around the world are blends. There are many reasons why winemakers produce blended wines, some obvious, others less so. One important reason is to provide some "insurance in the vineyard" against a range of calamities, particularly inclement weather in which some grape varieties fare better than others.
Another key reason for blends is "flavor-centric" based on the ability of a winemaker to produce a better tasting or higher quality wine by blending together different grape varieties rather than maintaining a single varietal wine. In this case, the goal is to create a product greater than just the sum of its parts.
Other reasons for blending are more practical. Often a grower and winemaker will not have enough grapes or wine to produce a commercial quantity of a single varietal wine. So, blending wines from or two or more grape varieties or even two or more vintages may be needed to produce sufficient commercial quantity. Blending to improve certain aroma or flavor characteristics or tweak wine chemistry (alcohol, acidity, tannins, color, etc.) are other common reasons to mix grape varieties.
Two white blends will be compared, both based on the Viognier grape variety.
Lost Oak Winery Texas Duet 2020 Texas High Plains is a dry white blend of Viognier, Sauvignon Blanc, and Muscat Blanc produced by winemakers Jim Evans and Angela Chapman.
Domaine Brusset Les Travers Cairanne 2022 AOC Rhône Valley, France is a typical blend of white Rhône grape varieties, including Viognier, Roussanne, Grenache Blanc and Clairette Blanche.
Field blends, originally from vineyards with interplanted varieties, have been a part of the wine world since the very beginning. They were very important in Texas as the first significant grape plantings were made beginning in the early 1970s. Row crop farmers and other interested neophytes began planting different grape varieties, often just a few rows at a time, to learn which ones would produce healthy fruit and decent wines. There was a significant learning curve involved since Prohibition, 1920-1933, had basically devastated the Texas wine industry, and only a handful of vineyards remained in existence over those 40+ years.
Not only did fruit from interplanted vineyards provide answers as to optimum grape varieties for a given area, harvesting and mixing together various grapes, usually during fermentation, was a utilitarian method for producing ample quantity of wine for family needs and/or commercial sales.
The first two red wines offered in this tasting represent versions of "field blends" from multiple grape varieties that grow well together.
McPherson Cellars Tre Colore 2022 Texas High Plains is a blend of three Rhône variety grapes, including Cinsault, Carignan, and Viognier. The grapes were harvested at the same time and co-fermented to produce a juicy, easy drinking red for warm weather enjoyment.
Famille Perrin La Vieille Ferme 2021 Rhône Valley France is a blend of Cinsault, Carignan, Grenache, and Syrah created as an inexpensive, straightforward Rhône wine to sell by direct mail to French wine lovers. La Vieille Ferme, which literally translates as "the old farm," is a wine for everyday drinking pleasure and has been a big success both in France and the U.S.
Remember, a majority of the world's wines are blends! Examples include almost all of the famous French wines from Bordeaux and the Rhône Valley. Blends are important across most of Europe where planting a range of grape varieties has been extremely important in key regions like Chianti and Veneto in Italy, Rioja and Priorat in Spain, the Douro River area in Portugal, and regions in Southern France.
Another place where blends have become important is Australia. Although Shiraz or Syrah is the dominant grape variety, the Aussies often blend to create different flavor profiles and just make better wines than a single variety can deliver. The most common blends are of the G S M type, Grenache, Syrah, Mourvèdre, much like many of the wines from the Rhône Valley in France. Another popular combination is Shiraz with Cabernet Sauvignon which has become not only an important blend in Australia, but in other wine regions across the globe. The last pairing of wines will showcase two such blends.
Brennan Vineyards Buffalo Roam Reserve 2019 Texas is comprised of Syrah, Cabernet Sauvignon, Petite Sirah, and Cabernet Franc. Part of Brennan's Reserve program, this rich bold red with plenty of fruit and ample tannins pairs well with grilled meats and Texas BBQ.
Penfolds Max's Shiraz Cabernet 2020 South Australia combines Shiraz and Cabernet Sauvignon. It aged 12 months in American oak barrels to give rich, vibrant aromas and flavors. The Max's series of wines is a tribute to the first Chief Winemaker for Penfold's, Max Schubert, whose talents and efforts helped to revolutionize Australian winemaking.
Winemakers typically train and study to learn the art and science of blending, and many feel that a better blended wine can be produced than a single varietal wine. Here is a summary of some key reasons to produce blends.
Establishing a signature style Consistency for a vintage
Highlighting the terroir of a vineyard Balancing aromas and flavors
Modifying a wine's chemistry Managing wine inventories
Increasing a wine's favorable attributes or reducing its unfavorable characteristics
Without further belaboring the point of blended wines, the concept and reasons why so many blends exist today, in Texas and across the wine world, should be relatively clear. So, on your next adventure to visit Texas wineries and tasting rooms ask about blends, taste them, and learn more about this important segment of our wine industry. Please recognize that our Texas winemakers are working hard at this "blending game" and endeavor, often through blends, to produce the best wines possible for our enjoyment.
Learn more from these references:
Ultimate Wine Blending Guide: Learn The Art Of Mixing Wines, 10-Oct-2021, https://advancedmixology.com/bolg/art-of-mixology/wine-blending-guide#
The Secret History of Blending Wines, by Laura Burgess, 4-Jan-2017, https://vinepair.com/articles/secret-history-blending-wines
What Is Wine Blending and How Are Wine Blends Made?, by Oliver Hoss, 13-Feb-2021, https://wineloversmagazine.com/blog/what-is-wine-blending-and-how-are-wine-blends-made/
Famous Wine Blends, by Madeline Puckette, https://winefolly.com/tips/famous-wine-blends/
Comments
Commenting has been turned off.