October 31, 2022 | Carl Hudson
Wine Club Releases for November-2022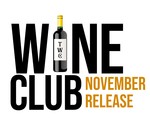 As we approach the holiday season, it is time for the Texas Wine Collective Wine Club Release and Pick-up Events, scheduled on Sundays, 6-Nov and 13-Nov, with sessions at 11:00-1:30 pm or 2:30-5:00 pm. The format will remain consistent with the opportunity to taste all 6 dry wines, red and white, along with 3 small-bite food pairings. Or, club members and their guests may visit the Wine Club Lounge to choose a complimentary single glass of wine from the release list. Tasting the sweet wines is also an option if these are your club selection.
Two guest attendees are allowed (total of 4 adult attendees per wine club membership) – with advance reservations. Look for Wine Club emails and announcements, make your reservations, and join us at Texas Wine Collective for the November 2022 Wine Club release. Still need to book your spot click here.
The TWC winery partners, Brennan Vineyards, Lost Oak Winery, and McPherson Cellars, are pleased to offer the following wines for this Wine Club Release.
Allocation Selection: R=Red, M=Mixed, W=White, S=Sweet
The Reds in this allocation include two full-bodied dry wines, Brennan Vineyards Winemaker's Choice Vol 7 and Protectors 2019, along with the ever popular Holiday Red.
Brennan Vineyards Winemaker's Choice VII (Vol 7) N.V. Texas R/M
Grape(s): A barrel selection reserve blend of Carmenere 50%, Malbec 25%, Syrah 15%, and Tempranillo 10%
Mechanically harvested fruit; cuvées fermented separately in SS tanks or macrobins with daily punch-downs; aged in mostly used American and French oak barrels (12-36 months); blended and bottled at 14.4% ABV, 0% RS (dry)
Winemaker Todd Webster selects special cuvees from his barrel reserve program to blend into this multi-variety, multi-vintage show-stopping red wine. Dark garnet color, medium-full body, rich black cherry fruit with notes of woodsmoke, cream, and vanilla, reasonably firm tannins on the finish. This is bold enough to pair with prime rib, roasted lamb or pork, or pepper-crusted ahi tuna steak.
Brennan Vineyards Reserve Protectors 2019 Texas R
Grape(s): A red blend containing mostly Nero d'Avola variety from Brennan's Newberg Vineyard
Mechanically harvested; cuvées fermented separately in SS tanks or macrobins with daily punchdowns; aged in mostly used American and French oak barrels (about 24 months); blended and bottled at 14.4% ABV, 0% RS (dry)
This inaugural wine in "The Grape Frontier Collection" honors the frontiersmen who banded together to protect the area from raiding Comanche Indians in the 1870's. Nero d'Avola is essentially the "national" grape of Sicily and has found a home in Comanche County, TX. Rich claret color; medium bodied; aromas of sour cherry, herbaceous peppercorn, stony minerality; flavors of tart raspberry with plum and dried fig notes; moderate tannins on a savory finish. Pair with pork chops, baked or BBQ'd turkey, enchiladas with mole sauce, and Philly cheesesteak sandwiches.
Lost Oak Winery Holiday Red 2020 American R/M
Grape(s): A blend of Texas grapes with a minor contribution of fruit from California.
Various cuvées fermented 10 days in SS tank at 85oF; wine pressed from the skins and aged in mostly SS tanks; blended, sweetened, stabilized, and bottled @13.5% ABV, 1.0% residual sugar (just a hint of sweetness)
Aged mostly in SS tank to preserve the freshest fruit aromas and flavors of red cherry, wild berry, and plum, this extremely popular, just barley sweet red pairs beautifully with your holiday fare – turkey, ham, dressing, sweet potatoes, cranberry sauce, and those delicious pumpkin and pecan pies.
The Whites in this allocation include three delicious white Rhône variety wines: Brennan Roussanne 2019, McPherson Cellars Roussanne Reserve 2021, and Lost Oak Viognier 2021.
Brennan Vineyards Roussanne 2019 Texas High Plains W
Grape(s): Roussanne 96%, La Pradera Vineyards, and Orange Muscat, 4%, Farmhouse Vineyards, all from Terry County
Mechanically harvested fruit was fermented cool in SS tank; aged in SS tank; blended and bottled @ 12.6% ABV, <0.1% RS (dry)
2019 was an excellent vintage providing a large quantity of high-quality fruit, a rare occurrence in Texas. This French Rhône Valley-origin grape variety has become a key white grape in Texas producing fuller bodied wines with depth and richness similar to Chardonnay. The name derives from the French word "roux" relating to the reddish-brown skin color when the grapes are ripe. This golden wine has aromas of dried apricots and almonds: flavors of gala apples, papaya, dried mango, and hints of key lime and ginger; well-balanced finish with subtle acidic grip. Pair with rich cheeses, grilled or baked seafood, holiday turkey or ham, mushroom and scallop risotto, and apple gingerbread pudding.
McPherson Cellars Roussanne Reserve 2021 TX High Plains W/M
Grape(s): Roussanne 100%, Lahey Vineyards, Brownfield, Terry County
Fermented 28 days at a cool 58oF in SS tank; aged 3 months in neutral oak barrels with frequent lees stirring; bottled @ 13.7% ABV, 0.3% RS (essentially dry)
This Rhône Valley neighbor of the better-known Viognier variety brings a rich flavor and fuller-bodied mouthfeel similar to Chardonnay. Aromas of muddled lemon, nectarine, and white flowers; flavors of fresh peach, ripe pear, and a hint of saltiness; nicely textured finish with some oaky cream and vanilla notes. Pair this "Texas Sunshine in a Glass" with grilled or baked seafood, basted turkey or ham, and lobster or bacon mac and cheese.
Lost Oak Winery Viognier 2021 TX High Plains W/M
Grape(s): Viognier 100%, 95% from Bingham Family Vineyards, Meadow, TX, and 5% from Diamante Doble Vyds, Tokio, TX, both in Terry County
Mechanically harvested, pressed, fermented cool at 52oF; aged about 6 mo in SS tank with no malolactic transformation; bottled @ 12.4% ABV, 0% RS (dry)
Jim Evans and Angela Chapman, LOW winemakers, do great things with Viognier. This light golden wine opens with aromas of golden apples, magnolia blossom, and minerally notes of wet slate. Flavors include ripe honeydew melon, spiced pear, and white peach. The finish is lively with hints of lemon zest and white peppercorn. Pair with warm brie and bacon spinach dip, sausage-stuffed mushrooms, pesto and prawn pasta salad, classic chicken pot pie, and white chocolate lemon tart.
The Sweets in this allocation include a return of the popular McPherson Cellars La Diosa Sangria and a new release of McPherson Cream Sherry, plus Lost Oak Winery Sweet Duet made from Trebbiano.
Lost Oak Winery Sweet Duet N.V. TX High Plains S
Grape(s): Trebbiano 100% - 40% 2019 and 40% 2021 from English Newsom Vineyards, Levelland, TX, Hockley County; and 20% 2021 from Paka Family Vneyards, Brownfield, TX, Terry County
Fruit was mechanically harvested, fermented cold in SS tanks; blended, sweetened, stabilized, and bottled @ 13.6% ABV, 6.0% RS (sweet)
In this case, Duet relates to the two vintages of Trebbiano grapes used to produce a wine for the "Sweet Tooth." This pale straw-colored wine offers aromas of tropical melons and sweet pea flowers. The flavors include honeysuckle melon, ripe peach, and a hint of pineapple. The wine has a soft finish with just enough acid balance. Pair with mascarpone cheese and honey on brioche toast, butternut squash ravioli, crab cakes, and toasted, candied pecans.
McPherson Cellars La Diosa Sangria N.V. TX High Plains S
Grape(s): Produced from a vineyard mix of grapes from High Plains Vineyards
Various cuvées fermented cold and aged in SS tanks; blended, sweetened to about 5% RS (sweet); stabilized and bottled at 13.0% ABV
Medium-bodied wine with aromas of tropical fruit; jammy dark fruit flavors and some zesty acidity; pairs so well with soft cheeses, fresh fruit, berries in yogurt, shortbread cookies, and bacon-wrapped cream cheese stuffed jalapeno poppers; a pleasure for those with a sweet tooth and so much easier than mixing up your own batch of Sangria; so toss some fruit into this La Diosa and enjoy.
McPherson Cellars Sherry, Single Cream N.V. TX High Plains S
Grape(s): Chenin Blanc and French Colombard from Texas High Plains Vineyards
The white grapes were typically fermented 4 weeks at cool temperature. After a measured amount of sugar, distilled grape spirits were added to raise the alcohol level and prevent further fermentation. The fortified wine was then added to oak barrels and baked by the hot Texas sun year-round.
Made in the classic "solera system" method, barrels are rotated from top to bottom to create consistency as wine is removed for bottling. Some of this wine is 12-13 years old. The nutty, creamy, sweetness pairs with pound cake, pecan pie, rich blue cheeses, and caramel-pecan bread pudding.
Comments
Commenting has been turned off.