January 5, 2022 | Carl Hudson
What's An AVA, Mama?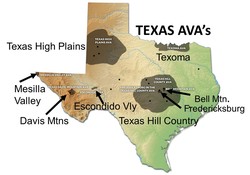 It has been suggested that to start this new year, 2022, a series of posts on AVAs, specifically Texas AVAs, be the focus for Carl's Corner. So, what is an AVA, and what does an AVA mean for Texas? We will get to answers for these questions, and many more, below and over the next few issues. Let's start with what is an AVA.
AVA stands for American Viticultural Area, a designated area or region with defined boundaries that, following a formal application process, has been approved by the Federal Government, specifically the Alcohol and Tobacco, Tax and Trade Bureau (TTB). A key feature of an AVA is that it be a delimited grape-growing region with specific geographic and/or climatic features that distinguish it from surrounding regions and affect the characteristics of grapes grown within the defined boundaries.
The names and boundary descriptions for all established U.S. AVAs are described and published in the Code of Federal Regulations – 27 CFR part 9. As you might expect, it can be somewhat complicated. Sub-sections of the Code include scope, general provisions, definitions, territorial extent, delegations of the administrator, and further sub-sections detailing the submission of the petition with its defined requirements, processing steps, and, hopefully, eventual approval by the TTB. At last count, there are 242 AVAs in the U.S., over half of which are in California (no surprise there!).
Most wine regions around the world use similar systems, like the French Appellation d'Origine Contrôlée (AOC), Australia's Geographical Indication (GI), and Italy's Denominazione di Origine Controllata (DOC). The U.S. AVA system was designed to similarly specify grape growing regions or appellations as many call them.
An AVA designation can be used on a wine label, under specified rules for such use, to allow vintners to more accurately describe to consumers the origin of the grapes used to produce their wines and help consumers identify wines with characteristics they may wish to purchase. This involves a relatively complicated set of guidelines, under 27 CFR 4.25, that will be the subject of a future Carl's Corner.
The key at this point is to outline the actual AVAs in Texas, and the best way to do that is to provide the map below. From this map, one can see there are 8 specified regions in the Lone Star State. Six of the regions are full AVAs, including Texas Hill Country, Texas High Plains, Texoma, Mesilla Valley, Davis Mountains, and Escondido Valley. Within the Texas Hill Country AVA are, wholly contained within the boundaries, two sub-AVAs, Bell Mountain and Fredericksburg in the Texas Hill Country AVA.
The intent is to post more information about these important Texas AVAs in the future Carl's Corners. As noted above, the use and value of including an AVA designation on a wine label will be discussed. The size, boundaries, climate, etc., of these AVAs, will be further described. Also, there are large areas of Texas not currently included in an AVA designation, and these will be explored.
Open and pour some fine Texas wines and sit back for what will hopefully be a fun trip across Texas and its AVAs. Stay tuned.
Comments
Commenting has been turned off.