May 4, 2022 | TWC Insider
We're Paying It Forward Again: The Grace Center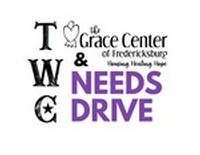 Fact: 1 in 4 women and 1 in 7 men have been victims of severe physical violence by an intimate
partner in their lifetime.
Fact: 1 in 15 children are exposed to intimate partner violence each year, and 90% of these
children are eyewitnesses to this violence.

These are scary facts. But there they are. Living here in our charming, little "Burg," it's easy to
believe that we're somehow immune to the problem of domestic violence. After all, we're still a
relatively small town, and people look out for one another here. But check out another scary fact:
In 2021, police made 71 arrests on domestic violence charges here in Gillespie County. So, we
do have a problem.
To respond to this problem, in 2017, the Gillespie County Ministerial Association (GCMA)
began to explore the need for a domestic violence shelter in our community. At that time, people
impacted by domestic violence here in Fredericksburg and the surrounding county had to seek
shelter in Boerne or Kerrville, removing them from their homes and their support systems.
Due to the generosity of many individuals and businesses in our community, the GCMA's vision
for a local shelter is now a reality. Once finished (it's currently under construction), The Grace
Center will sit on 2.25 acres of land at an undisclosed location. It will house 36 victims of
domestic violence, along with their children and their pets and will feature a large-capacity
kitchen, living spaces, a counseling center, a garden, play areas for teens and children, an
outdoor playground, and kennels. Sadly, space for more victims will be needed, so the
construction allows for an expansion to serve 30 more victims in the future.
Of course, a project like The Grace Center isn't possible without support from a variety of
sources. The Schatze Haus Resale Boutique at 712 W Main (Suite B) is a fabulous (and very well
organized) thrift store featuring clothing, art, books, furniture, and more, and it's staffed by many
amazing volunteers. All proceeds from sales at the boutique benefit The Grace Center. This June,
part of the funds raised at the first-ever Fredericksburg Craft Beer Festival will go to The Grace
Center.
This shelter is definitely a community effort, and here at TWC, we're all about jumping in and
helping where we can. SO…for the month of May, we'll be collecting the following donations
for the shelter so that once it's built it can open fully stocked and ready to serve victims (this is
just a partial list of what the shelter will actually need to open…just what we're collecting at
TWC):

• Large shampoo (not travel size)
• Bath soap (not travel size)
• Dish towels
• Laundry pods
• White washcloths

In exchange for your donation of any or all of these items, you'll be entered into a drawing for a
fabulous TWC prize. This donation drive will end on Sunday, May 22. On that day, 15% of our
wine sales will go to The Grace Center. So please come on out, sip some wine, enjoy the TWC
grounds, and support a much-needed addition to our community!
Comments
Commenting has been turned off.