March 2, 2023 | Carl Hudson
Texas Wine and Grape Growers Conference, Feb-2023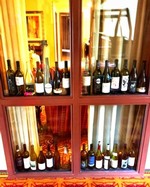 Evidence of a Fun Wine Time at the TWGGA Conference
The Texas Wine and Grape Growers Association represents the interests of member grape growers and wineries throughout the Lone Star State. The operating slogan is "From Grape Cultivation to Business Innovation." Each year the association holds an annual conference and trade show with a varied program to appeal to growers, winemakers, wineries, marketers, and consumer advocates. This year the conference was held in San Marcos, TX, at the Embassy Suites Convention Center, Feb-21-23.
The first day program included a meeting of the board of directors chaired by Glena Yates, President, Spicewood Vineyards and Ron Yates Wines. The presidential torch was passed to Monty Dixon, Bar Z Winery, who will lead the association through 2023. A general membership meeting and regional meetings (5 regions in Texas) followed. While this was happening, a large number of exhibitors who support the Texas wine industry were setting up booths in the exhibition hall where a an opening reception was held in the late afternoon. A past presidents' dinner (plus invited guests) was served that evening and other meeting attendees were free to gather, socialize, drink some wine, and make their own dinner arrangements. There were many fun and sometimes boisterous gatherings throughout the hotel complex that Tuesday night.
The technical program for the conference began on Wednesday morning at 9:00 am. There were workshop breakout sessions, two each in the morning and afternoon, with 4 different presentations split between vineyard, winery, tasting room, and business tracks. The topics are listed below, including a presentation by this author (see below in the Business track).
Vineyard - Protecting Your Investment (Insurance/Government Programs), Novel Viticulture Technologies, New Hybrid Grape Varieties, Cork Taint in Wine
Winery – Rules and Regulations, What I Wish I Knew When Starting My Winery, Nonconventional Yeast Fermentations, Alternative Packaging
Tasting Room – Converting Social Media Presence Into Sales, Sagrantino Grape Variety, Building Social Media Presence, Sell Wine Before Building Your Winery
Business - Hospitality in Wine: Successful Options for Engaging Your Customers (by Carl Hudson), Trademarks - Protecting Your Name and Logo, Labor Shortages and Solutions, An Ask Anything Session
In between the workshop sessions there was time to meander the exhibition hall and visit with the approximately 100 exhibitors. It was fun to peruse the various products and services offered, from vineyard equipment to labels, from vine nurseries to financing and insurance support, and from winemaking supplies to corks and barrels. Almost every booth had branded items to give away and it was easy to fill up the "goodie bag" presented to each attendee at registration. And, once again Wednesday night saw many fun and sometimes boisterous gatherings to visit with old friends, make new friends and acquaintances, and enjoy a lot of good Texas wine.
The Thursday technical program followed the same format with the addition of a buffet lunch provided the attendees in the exhibition hall. The workshop topics included the following.
Vineyard – Avoiding Mistakes to Keep Romance in Your Vineyard, Supporting Winter-Injured Vines, Extraction Technology for Bold Red Wines, Crush Report for 2021
Winery – Efficiency Protocols in the Winery, Improvements in Cellar/Crush Pad Efficiency, Preparations for Bottling, Sustainability in the Texas Wine Industry
Tasting Room – Wine Competitions and Why They are Important, Events that Marry Food and Wine, Best Practices for Tasting Room Success
Business – Legislative Action Report (by TWGGA lobbyist), New Ways for Consumers to Find Texas Wines, Marketing to the Hispanic Community, How to Prepare and What to Expect When Audited by Various Local, State, and Federal Organizations
Again, there was time between the workshop sessions to meander about the exhibition hall, visit with exhibitors, share a buffet lunch, and grab any give-away goodies that you didn't get earlier.
These annual conferences take a much effort to plan, organize, and present. There are lots of folks that volunteer their time and energy to make it all happen, including the board of directors (18), the program organizing committee (7), the presenters (51), the exhibitors (100), and a crew of folks that manage registration, wine and food logistics, and myriad other details. The conference is an important part of our industry and provides not only good information and ideas, but becomes sort of a fun-filled Texas Wine Family reunion. I was very pleased to attend and share this event with so many wonderful folks in our business.
Comments
Commenting has been turned off.