July 21, 2022 | Carl Hudson
Texas Wine Collective – Spain vs Texas Pairing
Sunday, 24-July-2022 - 12:30 and 2:30 pm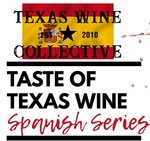 A Texas vs Spain pairing event is scheduled for Sunday, 24-July-2022, in the Texas Wine Collective Event Center with sessions at 12:30 pm and 2:30 pm. Advance tickets are required and can be purchased via the www.texaswinecollective.com website. This event is designed to allow attendees to compare and contrast wines grown and produced in Texas versus those from Spain using the same grape varieties. Chef Amber (Saidler), TWC tasting room and events manager, will prepare delicious small food bites to accompany the wines.
Wines and varieties being considered are based on those available from our TWC winery partners: Lost Oak Winery, Brennan Vineyards, and McPherson Cellars. We look forward to seeing you and sharing some delicious wines for summertime drinking. Current plans are focused on the following wine selections.
McPherson Cellars Albariño 2021 Texas High Plains
The grapes for this 100% Albariño wine came from Texas High Plains vineyards near Brownfield, in Terry County. Kim McPherson and assistant winemaker Spenser Igo excel at the production of white wines, and this is no exception. The grapes were mechanically harvested, immediately pressed, and the juice allowed to slowly ferment at cool temperature for about 25 days. The wine was then racked clear of sediment, aged in SS tanks, and when ready, bottled @ 13.0% ABV, 0.3% RS (dry).
Albariño's native home is the far northwest area of Spain and northern Portugal (where it's called Alvarinho) that is significantly influenced by the cooling effect of the nearby Atlantic Ocean. Thus, the best place in Texas to grow Albariño is the Texas High Plains where night-time temperatures get much cooler and the high elevation tends to moderate the sometimes brutal Texas summer heat. This delightful version of Albariño offers aromas and flavors of peach, melon, apple, and hints of citrus-lime pith; and a smooth texture leading to a pleasant, slightly crisp finish. This wine pairs beautifully with grilled seafood or chicken, spicy Thai or Asian dishes, and Spanish paella.
To be Determined - Albarino from Rias Baixas Spain
Lost Oak Winery Mourvèdre Rosé Diamante Doble Vyd 2019
Texas High Plains
This wine is produced from Mourvèdre grapes sourced from Jet and Gay Wilmeth's Diamante Doble Vineyard located near Tokio in western Terry County. Winemaker Jim Evans and his assistant, Angela Chapman, seem to really like producing and drinking rosé wines, and this one using Mourvèdre grapes works well for our pairing since this is the same variety called Mataro or Monastrell in Spain that is used frequently for rosé wines. The grapes were mechanically harvested and processed with limited skin contact to minimize color. The juice was fermented in temperature-controlled SS tanks, aged in stainless steel tanks, and bottled @ 13.4% ABV and 0% RS.
Mourvèdre (Mataro or Monastrell) is widely grown in the eastern regions of Spain that experience the warm, arid Mediterranean climate. This variety also grows well in most regions of Texas, especially the Texas High Plains. Mourvèdre is most often made into rich, dark red wines but also finds use in rosés, late harvest dessert wines, and even sparkling wines (think pet-nats here in Texas.
This is a refreshing wine to serve in the hot Texas summer weather. Deep salmon color; melon rind, strawberry, and mint on the nose; currant and strawberry fruit flavors; balanced acidity with a crisp, juicy finish. Pair with lighter fare such as turkey, grilled chicken, BLT or grilled cheese sandwiches, and chef salads.
To be Determined – Mataro Rosé from Spain
Brennan Vineyards Tempranillo 2018 Texas
This delicious Texas wine was produced by executive winemaker Todd Webster. The wine is a rather interesting and unusual blend of 90% Tempranillo 2018, 7% Super Nero 2019, and 3% Winemaker's Choice NV Vol. 7. Such a blend connects with Todd Webster's focus on producing the best wine possible regardless of vintage or grape variety, the basis that drives his Winemaker's Choice series of non-vintage wines. Using a bit of the 2019 Super Nero blend as well as the Volume 7 Winemaker's Choice blend produced what the winemaker thought was the best possible option for a stellar Tempranillo. By the way, this wine can be vintage dated (2018) since the U.S. Alcohol and Tobacco Tax and Trade Bureau (TTB) changed vintage labeling rules in 2006 to allow regional appellation wines, like TEXAS, to contain up to 15% wine from a different vintage.
The Tempranillo fruit was sourced 51% from Newburg Vineyard, Comanche County, and 49% from Lahey Vineyard, Terry County, Texas High Plains. The Newburg Tempranillo was harvested 3-Sep-2018 at 27oBrix (very ripe) and led to 15.3% ABV in the final wine. Fermentation at 70oF was started on 5-Sep-2018 and lasted 9 days. A delestage pumpover was practiced each day of fermentation to improve extraction of color, flavor, and tannins from the grapes. Although a delestage helps extract more tannin, the extra air contact involved also helps soften the tannin extracted. After fermentation, the wine was racked to neutral French and American oak barrels and aged for a total of 32 months.
The aromas are full of ripe dark cherry fruit with strong hints of toasty oak. The flavors fall into the very ripe fruit camp with black cherry, blackberry, currant, and plum character, boosted by notes of pipe tobacco, seasoned leather, marinara sauce, and dark potting soil. The tannins are bold but not overbearing as they have mellowed during the longer aging process into a very smooth, lush finish. This is a wine that just cries out for grilled steak or beef ribs, good ol' Texas BBQ, or a meat-lover's pizza.
Terra d'Uro La Enfermera Tempranillo 2020 DO Toro
Toro is the other major region in Spain where Tempranillo represents the key red grape. Toro has similar climate conditions to its neighbors, Rioja, to the northeast on the Ebro River system, and Ribera del Duero upstream to the east. Located further downstream along the Duero River, Toro is in the Castilla y Leon region of north-western Spain and is becoming increasingly well known for full bodied red wines made from Tinta de Toro, or Tempranillo. The region is named for the town of Toro, an ancient settlement just 40 miles east of the Portuguese border.
Toro has long been famous for its wine. As far back as the 12th century, Spanish kings have served Toro wines in their palaces. It is reported that Columbus took Toro wine with him on the expedition to discover America in 1492, because it could survive long journeys due to its structure and body. One of the ships, the Pinta, was presumably half-full of Toro wine. Despite its history, the region only recently attained the full designation of Denominación de Origen in 1987.
During the battle of Toro vs King Alfonso V of Portugal in 1476, a nurse named Isabel the Catholic helped install 6 tents as a make-shift hospital to treat wounded soldiers. She believed that dosification of red Toro wine would not only comfort the wounded but help them heal. This wine is name in her honor.
It is produced from un-grafted Tinta de Toro vines, fermented in temperature-controlled SS tanks, and aged three months in oak barrels before bottling at 14.5% ABV. This is a Roble wine meant for early drinking and good value.
Comments
Commenting has been turned off.