March 14, 2022 | Carl Hudson
Texas Wine Collective – Carl's Corner Financial Value of an AVA Designation
One certainly may wonder about the value, financial and otherwise, to having an AVA designation and using such on a wine label. Many studies have been done to explore this issue, and some of the most informative ones are noted in the Journal of the American Association of Wine Economics edited by Karl Storchman, a long-time wine enthusiast and professor of Economics at New York University. He is extremely knowledgeable and a fun guy with whom to taste wine.
Studies to determine AVA value have been done in many wine regions world-wide. U.S. studies have mostly focused on the economic value of sub-AVAs within high-end appellations, such as Napa Valley (CA) or Willamette Valley (OR). Primary conclusions suggest that defining and designating sub-AVAs within a major region, like Napa Valley, can usually deliver a recognizable elevated price effect on grapes and wines.
It will probably then come as no surprise that in certain popular wine regions, well-established wineries and vineyards can decide to band together and define some measure of separation from those with lesser qualifications or reputations, or simply from those with different climate and growing characteristics. Once differentiated, the expectation is that these wineries and vineyards will be able to capitalize on their newly defined distinctiveness as a designated sub-AVA and enjoy a greater regional reputation that results in higher premiums for their grapes and wines. This is a very common practice in some of the major U.S. wine regions, like Napa Valley AVA, CA (now with 16 sub-AVAs) Willamette Valley AVA, OR (now with 9 sub-AVAs), and Columbia Valley AVA, WA (now with 13 sub-AVAs) This is certainly the trend we expect to see in Texas as these huge AVAs like the Texas Hill Country (9 million acres) and Texas High Plains (8 million acres) get further defined with sub-AVAs to group smaller, yet more similar growing areas.
These AVA and sub-AVA designations have a definite influence on wine consumers. In my case, I look particularly for Napa Valley wines with either a Stags Leap or Spring Mountain sub-AVA label designation since wines from these areas have been most notable in past experiences. From Oregon, pinot noir wines from Willamette Valley with sub-AVA designations Eola-Amity Hills and Yamhill-Carlton District have a special attraction. And from Washington, sub-AVAs of the extensive Columbia River Valley AVA, like Walla Walla and Red Hills, designate areas from which favorite wines are sourced. This is the goal for Texas – to find ways to designate specific growing areas which produce grapes and wines that consumers can recognize and support through further purchases.
Estimates of the average prices and value of wine grapes crushed in California, for example, have clearly shown that AVA and sub-AVA designations have a positive impact. This is similar to what has been observed in other key wine states like Washington and Oregon. Differentiation of grape prices has begun to be significant in Texas, and the key factors, as expected, include AVA, vineyard location, and grower reputation. Many growers and winemakers believe that the creation of selected sub-AVAs in the two major regions of Texas High Plains and Texas Hill Country will continue to pay dividends. And, certain important grape growing regions of Texas not yet in a designated AVA will continue to push for TTB approval of their own AVA applications.
Because of the limited number of AVAs and sub-AVAs in Texas, one increasingly valuable method of differentiation is to use County names on labels to more specifically define the source origin of grapes used to make wines. The Texas High Plains AVA is so widespread that designations like Hockley County (Levelland, west of Lubbock), Terry and Yoakum Counties (Brownfield and Plains, west southwest of Lubbock), and Gaines County (Seagraves and Seminole south of Lubbock) have begun to take on enhanced meaning when noted on a wine label. An example of this would be a wine labeled Texas High Plains – Terry County, which should carry a similar impact as say Napa Valley – Spring Mountain.
Other examples exist in the Texas Hill Country, and even more so in areas of Texas not included in an AVA. Examples of this can be seen with our TWC partner Brennan Vineyards in Comanche County, our neighbors in Mason County, and our friends at Blue Ostrich Vineyards and Winery in Montague County (Red River Valley north of Ft. Worth). Remember, at least 75% of the grapes in the labeled wine must have been grown in that county. However, with recent legislation signed into law in summer 2021, the remainder of the grapes must also come from Texas vineyards. So, wines carrying a Texas County designation now tell the consumer that the wine comes from 100% Texas grown grapes.
AVA designations can also impact the value of terroir, which refers to the special characteristics of a place that imparts unique qualities to the wine produced. This can be translated not only to higher reputations and prices for grapes and wines from a specific area, but also to the actual value of the vineyard or land area in which the grapes are grown. Many growers see this as an advantage, especially when the time may come to sell their vineyard.
Another note on AVA value comes from a study by MossAdams, LLP, a financial and tax consulting company that does a lot of business with the wine industry. It turns out that AVA designations can translate into potential tax savings for wineries. An AVA may have an intangible value associated with the quality of the grapes produced within it. Unlike land, producers may be able to amortize the value of this asset for tax purposes. I do not understand this concept, and certainly cannot explain it to you, but there appears to be ways to translate an AVA status into financial savings when tax time comes.
A final point to make regarding value of an AVA relates to the TTB requirement that to label a wine as Estate Grown, the grape source and winery involved must be included in an AVA. This causes problems for many Texas wineries. A key example would be Brennan Vineyards in Comanche, a Texas Wine Collective partner, that is not in a Texas AVA. Thus, even though many Brennan wines contain only grapes sourced from the 30 acres of vines managed by the winery in Comanche County, the prestigious Estate designation cannot be used. In these cases, as noted above, Comanche County on the label becomes an important alternative means to designate grape source.
American Viticultural Area Valuations Offer Potential Tax Savings for Wineries, by Donovan Trone, Senior Manager, Valuation Services, MossAdams, LLP, 28-Jun-2019, updated 24-Aug-2020.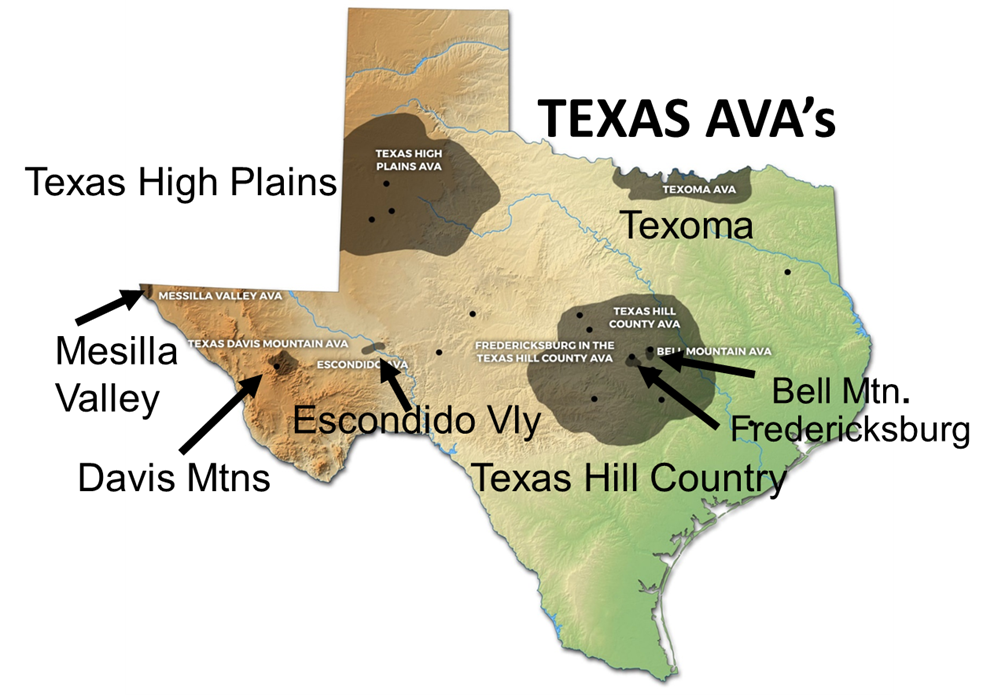 Comments
Commenting has been turned off.