November 21, 2023 | Carl Hudson
Texas Tasting Series - World of Blends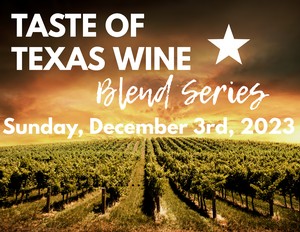 Blended Wines – Why and How?
A new Texas Wine Pairing event featuring Blended Wines is scheduled for Sunday, December 3, 2023, with sessions at 12:30 and 2:30 held in the TWC Event Center.
Advanced reservations and ticket purchase are required. See the website: www.texaswinecollective.com
The blended wines to be tasted at the December 3rd event will include 3 from Texas Wine Collective winery partners, Brennan Vineyards, Lost Oak Winery, and McPherson Cellars – and 3 wines from other important wine regions – Rhône Valley, France, and South Australia. Chef Amber Saidler, TWC Director of Operations, has arranged for delicious small food bites to accompany the wines, prepared by Chef Kyle in the TWC Food Truck - Cork and Fork.
Lost Oak Winery Texas Duet – a dry white blend of Viognier, Sauvignon Blanc, and Muscat Blanc
vs Domaine Brusset Les Travers Cairanne - a French Rhône Valley white blend of Viognier, Grenache Blanc, Roussanne, and Clariette Blanche
McPherson Cellars Tre Colore a light red blend of co-fermented Cinsault, Carignan, and Viognier
vs Perrin La Vieille Ferme an easy drinking, straightforward red blend from France's Rhône Valley based on Cinsault, Carignan, Grenache, and Syrah
Brennan Vineyards Buffalo Roam Reserve - a rich, bold red blend based on Syrah and Cabernet Sauvignon that pairs with grilled meats and Texas BBQ
vs Penfolds Max's Shiraz Cabernet blend from South Australia produced as a tribute to Penfolds' first chief winemaker, Max Schubert
Wines blended from multiple grape varieties are very important across the wine world. In fact, most wines around the world ARE blends. There are many reasons why winemakers produce blended wines, some obvious, others less so. One important reason is to provide some "insurance in the vineyard" against a range of calamities, particularly inclement weather in which some grape varieties fare better than others. The goal is always to have a successful grape harvest to make the final product – our wine!
Another key reason for blends is "flavor-centric" based on the ability of a winemaker to produce a better tasting or higher quality wine by blending different grape varieties together rather than maintaining a single varietal wine. In this case, the goal is to create a product greater than just the sum of its parts.
Other reasons for blending are more practical. Often a grower and winemaker will not have enough grapes or wine to produce a commercial quantity of a single varietal wine. So, it may become necessary to blend wines from two or more grape varieties or even two or more vintages to produce sufficient commercial quantity. Blending to improve certain aroma or flavor characteristics or to tweak wine chemistry (alcohol, acidity, tannins, color, etc.) are other common reasons to mix grape varieties.
Lost Oak Winery Texas Duet 2020 Texas High Plains
Texas winemakers have experimented with a wide range of white grapes to make finished blends. This easy-drinking wine from winemakers Jim Evans and Angela Chapman represents a similar concept to that used for Côtes du Rhône Blanc where each grape variety is included to enhance the overall aromas and flavors. This is a blend of 75% Viognier, 15% Sauvignon Blanc, and 10% Muscat Blanc. The grapes were mechanically harvested, pressed directly, and separately fermented at cool temperature in SS tanks. The wines aged about 6 months in SS tanks with no malolactic transformation to capture more of the bright fruit aromas and flavors, along with natural acidity. The wines were blended and bottled at 14% ABV, 0% RS (dry) to show aromas of green apple, white peach, and honey; flavors of peach, pear, and orange melon; with key lime and grapefruit notes on a crisp finish. Pair Texas Duet with citrus-marinated shrimp cocktail, seafood paella, charcuterie platters, grilled chicken or pork, portobello mushrooms in white wine sauce, and white chocolate panna cotta.
Domaine Brusset Les Travers Cairanne 2022 AOC Rhône Valley, France
This is a nice rendition of a white Rhône blend comprised of Viognier, Roussanne, Grenache Blanc and Clairette Blanche. These Rhône white grapes grow well in the hot, arid climate of Texas. The various cuvées were fermented separately and portions were aged in SS tanks or used oak barrels. Eventually the cuvées were blended and bottled at 13.5% ABV, 0% RS (dry). The wine offers notes of ripe peach, Meyer lemon, and orange blossom, with notes of mango and apricot that give way to a juicy, vibrant, minerally finish. Enjoy this wine with charcuterie platters, ham and cheese sandwiches, fish tacos, and grilled shrimp, chicken, or pork.
Field blends, originally from vineyards with interplanted varieties, were very important in Texas as the first significant grape plantings were made beginning in the early 1970s. Often just a few rows of different varieties were planted to learn which ones would produce healthy fruit and decent wines. Not only did the fruit from interplanted vineyards provide answers as to the most optimum grape variety for a given area, harvesting and mixing together various grapes, usually during fermentation, was a utilitarian method for producing ample quantity of wine for family needs and/or commercial sales. Today, field blends are often produced as a novelty, but they are still a valuable tool for farmer-growers trying to establish vineyards in new locations with the goal of creating a measure of consistency and commercial success.
McPherson Cellars Tre Colore 2022 Texas High Plains
This is a blend of three Rhône variety grapes, including Cinsault 61%, Carignan 33%, and Viognier 6%. These varieties are well suited to the Texas High Plains and help form the backbone of the McPherson portfolio of Mediterranean grapes that originated from the regions in Spain, southern France, and Italy. Cinsault and Carignan are mainly used as blending grapes. Viognier is the most important white grape in the northern Rhone where it not only produces terrific white wines in Condrieu but is often co-fermented with Syrah in Côte Rôtie to provide brighter fruit aromas and flavors along with better color stability. This is Kim McPherson and Spenser Igo's nod to the practice of co-fermenting Viognier with red grapes. The fruit was mechanically harvested and co-fermented in SS tanks to best preserve bright fruit aromas and flavors and produce a juicy, easy drinking red. The finished wine was aged in SS tank for several months before bottling at 13.2% ABV, 0.2% RS (dry). This Rhône-style blend offers aromas and flavors of cherry, strawberry, and red plum in a harmonious and delicate wine with a smooth, easy finish. Pair with scalloped potatoes, charcuterie platters, grilled fish, chicken, or pork, and cool berry desserts.
Famille Perrin La Vieille Ferme 2021 Rhône Valley France
The Perrin family, owners of the famous Château de Beaucastel in Châteauneuf-du-Pape, produce a range of wines in several price categories. This unpretentious, fresh and fruity red table wine was established in the 1980's as an inexpensive, straightforward Rhône wine to sell by direct mail to French wine lovers. It is comprised of Grenache, Syrah, Cinsault, and Carignan. Small portions of white grapes have sometimes been included. La Vieille Ferme, which literally translates as "the old farm," is a richly fruity and supple wine, ruby-purple in color, with a seductive bouquet of red fruit, spices, cassis, and herbs and flavors of plum, cherry, and blackberry. The grapes are harvested and vinified separately. fermented in temperature-controlled cement tanks and aged in old oak tanks for 10 months before blending and bottling @ 13% ABV, 0% RS.
Remember that a majority of the world's wines are blends! Examples include almost all of the famous French wines from Bordeaux, the Rhône Valley, and other important regions like Chianti and Veneto in Italy, Rioja and Priorat in Spain, and the Douro River area in Portugal.
Another place where blends have become important is Australia. Although Shiraz or Syrah is the dominant grape variety, the Aussies often blend to create different flavor profiles and just make better wines than a single variety can deliver. The most common blends are of the G S M type, Grenache, Syrah, Mourvèdre, much like many of the wines from the Rhône Valley in France. Another popular blend is Shiraz with Cabernet Sauvignon, a grape which has become very important in Australia. This combination is gaining in popularity in Europe, South Africa, and the U.S., even here in Texas.
Brennan Vineyards Buffalo Roam Reserve 2019 Texas
Winemaker Todd Webster practiced the art of blending on a very high level and produced this delightful blend with the funny name comprised of 63% Syrah, 19% Cabernet Sauvignon, 12% Petite Sirah, and 6% Cabernet Franc. This deep, rich red shows off the winemaker's ability to blend several grapes into something special. Wines of this type are not all that common in Texas or most of the U.S., but the Australians have known the value of blending Syrah with Cabernet Sauvignon for many years. So, Buffalo Roam Reserve most resembles an Aussie-style blend. The grapes were mechanically harvested, fermented separately in SS tanks or macrobins, and aged in used American and French oak barrels (18-24 months). The selected cuvées were blended and bottled @ 14.4% ABV, 0% RS (dry). The wine has a dark garnet color, medium-full body, and shows rich black cherry fruit with notes of woodsmoke, cream, and vanilla. With reasonably firm tannins on the finish, this is bold enough to pair with prime rib, pepper-crusted ahi tuna steak, roasted lamb or pork, and Texas BBQ.
Penfolds Max's Shiraz Cabernet 2020 South Australia
The line of Max's wines is a tribute to the talent and passion of Penfolds first Chief Winemaker Max Schubert (served from1948-to-1975) who literally revolutionized Australian winemaking. These wines are designed to be richly flavored and enjoyable at a reasonable price point. The machine harvested fruit for Max's blend, 69% Shiraz and 31% Cabernet Sauvignon, comes from four key growing areas in South Australia. The grapes were fermented separately and aged for 12 months in American oak barrels (7% new, 60% 1-yr, and the rest older) to give rich, vibrant aromas and flavors. The cuvées were blended and bottled @ 14.5% ABV, 0% RS. The aromas and flavors include dark black cherry, ripe cranberry, salted plum preserves, grilled sausage or bacon, spearmint, lavender, black olive tapenade, mineral earthiness, and plenty of toasty vanilla oak notes from barrel aging. The finish is round and full. Pair this with grilled red meats, beef or pork stir fry, and mushroom parmesan risotto.
The concept and reasons why so many blends exist today, in Texas and across the wine world, should be relatively clear. So, on your next adventure to visit Texas wineries and tasting rooms ask about blends, taste them, and learn more about this important segment of our wine industry. Please recognize that our Texas winemakers work hard at this "blending game" and endeavor, often through blends, to produce the best wines possible for our enjoyment.
Learn more from these references:
Ultimate Wine Blending Guide: Learn The Art Of Mixing Wines, 10-Oct-2021, https://advancedmixology.com/bolg/art-of-mixology/wine-blending-guide#
The Secret History of Blending Wines, by Laura Burgess, 4-Jan-2017, https://vinepair.com/articles/secret-history-blending-wines
What Is Wine Blending and How Are Wine Blends Made?, by Oliver Hoss, 13-Feb-2021, https://wineloversmagazine.com/blog/what-is-wine-blending-and-how-are-wine-blends-made/
Famous Wine Blends, by Madeline Puckette, https://winefolly.com/tips/famous-wine-blends/
Comments
Commenting has been turned off.