August 19, 2022 | Carl Hudson
Texas Tasting Series: Italy vs Texas- August 2022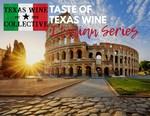 Welcome to another Texas Tasting Series event – this one featuring Texas and Italy, designed to allow attendees to compare and contrast wines grown and produced in Italy versus those from our Texas Wine Collective partners, McPherson Cellars, Lost Oak Winery, and Brennan Vineyards, using the same grape varieties grown and produced here in the Lone Star State. This event is scheduled in the Texas Wine Collective Event Center on Sunday, 21-August-2022, with sessions at 12:30 and 2:30 pm. Chef Amber Saidler, TWC tasting room and events manager, will prepare several delicious small food bites to accompany the wines. Advance ticket purchase is required, please check the website to make your reservations, www.texaswinecollective.com.
Many grape growing regions in Texas have similar climates and soil compositions to those of key grape growing areas in Italy, and the same grape varieties, often called the Mediterranean grapes, can thrive in both places. First consider Trebbiano, the key white grape of the eastern, central coast regions of Marche and Abruzzo, bordering on the Adriatic Sea across from Croatia. Trebbiano is also widely grown in other parts of Europe, especially France, where it is known as Ugni Blanc, the primary source for distilled grape spirits in brandy production (Cognac, Armagnac).
Trebbiano wines are typically light golden in color, dry but fruit-forward, with a delicate bouquet, citrusy flavors, and refreshing, crisp acidity. This grape variety is gaining in popularity in Texas because of its flavor characteristics and its inherent drought and freeze tolerance. Trebbiano from either Italy or Texas promises a refreshing summertime drink.
It wouldn't be right to think of Italian wine without considering Sangiovese, the key red grape in Tuscany, Italy, famous for producing the wines of Chianti. Though most famous in Tuscany, the grape is widely grown throughout central Italy from Emilio Romagna down to Lazio (Rome) and across the Apennine Mountains in the regions of Abruzzo and Marche where is it usually blended with Montepulciano. Wine laws of Italy were, until recently, very restrictive, but because of the high natural acidity in Sangiovese, many wines from the Chianti region were blended with grapes having a mellower profile, like Canaiolo, Colorino, and even white wine grapes like Trebbiano and Malvasia.
Since the late 20th century, Bordeaux grapes, most notably Cabernet Sauvignon, Cabernet Franc, and Merlot, in limited amounts, have become favored blending partners. About 40 years ago several forward-thinking winemakers began to add international varieties, like Cabernet Sauvignon, Cabernet Franc, and Merlot to their portfolios. Blends of these varieties, often with Sangiovese, became known as "Super Tuscan" wines and have created an almost cult-like following from wine aficionados around the globe.
Producing Sangiovese varietal wines as well as blends is common in Texas, too. The grape grows particularly well on the Texas High Plains and produces bright red, richly flavored wines with cherry and strawberry nuances and a little spiciness. Sangiovese readily takes on oak flavoring, adding vanilla, smoky notes, baking spice, toasted brioche, and even tarry characteristics. Although typically lighter and less aromatic than other red varieties, Sangiovese offers a rich flavor profile of sour red cherries with earthy aromas and tea leaf notes, finishing with medium to medium-plus tannins and focused acidity that goes oh so well with food.
Nero d'Avola is essentially the "national" grape of Sicily, originating on the hillsides above the port city of Avola located on the southeastern point of the island. It is also grown all over Sicily and much of the arid, rocky areas of southeastern Italy. Pat and Trellise Brennan fell in love with Nero d'Avola on a trip to Sicily. After much effort over several years, they were able to acquire grape vines to plant in Comanche County. To date, Newburg Vineyard, located about 10 miles south of the Brennan tasting room and winery in Comanche, is one of very few vineyards in Texas with Nero d'Avola plantings. As such, we at Texas Wine Collective are privileged to be able to enjoy wines from this special grape.
Nero d'Avola wines were first documented in the third century B.C. and have been well known for centuries because of Sicily's position on the trade routes through the Mediterranean. Ships would typically stop in the cities of Avola and Syracuse to resupply as they rounded the southern tip of Sicily. The opportunity to taste and load up with the local "black wine of Avola" was an important part of these stopovers.
Nero d'Avola is an arid climate variety capable of being dry-farmed, and it loves heat. In Sicily, many vineyards are pruned Alberello-style, or "head-trained" close to the ground to resist high winds (similar to many places in Greece, like Santorini)). Most Nero d'Avola comes from Sicily, but a few pioneering producers in Australia, California, and Texas are enjoying both notoriety and success with the variety.
The most common flavor characteristics found in Nero d'Avola are black cherry, black plum, licorice, tobacco, and pepper. Bold tannin levels accompany robust fruit flavors and ample acidity, making Nero d'Avola a great wine to match with rich meat dishes like oxtail soup, braised short ribs, lasagna, or BBQ burgers with bacon.
Comments
Commenting has been turned off.