July 15, 2023 | Carl Hudson
Texas Tasting Series - Texas vs Spain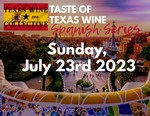 A tasting to compare and contrast Spanish grape variety wines made in Texas and Spain is scheduled Sunday, July 23, in the Texas Wine Collective Event Center with sessions at 12:30 and 2:30 pm. Many regions in Texas have similar climates and soil compositions to those in Spain, and the same grape varieties can thrive in both places. That is a key reason so many Spanish-origin grape varieties show up in Texas tasting rooms.
Attendees will taste wines from traditional Spanish grape varieties – Albarino, Mourvèdre/Monastrell, and Graciano, produced by the TWC winery partners – McPherson Cellars, Lost Oak Winery, and Brennan Vineyards – paired with three Spanish wines from the regions of Rias Baixas, Alicante, and Rioja. Amber Saidler, TWC Operations Manager and Chef, has arranged three delicious small food bites to accompany the wines.
Skewer with ham, cheese, olives, cherry tomato
Black Bean Empanada
Buñuelos with Chocolate Dipping Sauce
Reservations and advance payment are required.
Check the website www.texaswinecollective.com to reserve your spot and please join us,
Two white wines will feature Albariño, the main white grape in northwest Spanish regions of Galicia and Rias Baixas and in northern Portugal where it is called Alvarinho. These regions are influenced by the nearby Atlantic Ocean breezes and similar characteristics come from Albarino grown on the Texas High Plains where night-time temperatures get much cooler and high elevation tends to moderate Texas summer heat.
Albariño typically produces crisp, fruity, lighter-bodied white wines with higher acidity, bright floral aromas, and flavors of citrus and pit fruits. In the region of Vinho Verde in northern Portugal, Alvarinho is often blended to produce crisp, dry white wines. The same is true in Texas as winemakers produce Albarino or blends to deliver bright fruit and zesty acidity in white wines for our warm climate.
McPherson Cellars Verde Verde 2020 Texas High Plains is a tribute to Vinho Verde wines. Albarino blended with Trebbiano offers citrus, melon, apple, and tropical fruit aromas and flavors with a zesty finish. Trebbiano is a good blender and helps deliver crisp acidity.
Bodegas La Caña Albariño 2021 DO Rias Baixas Spain comes from the portfolio of Jorge Ordóñez, a premier importer of Spanish wines into the U.S. All cultivation and harvesting is done by hand giving a richer version of Albarino with aromas and flavors of citrus fruit, apple, and pear plus a hint of ocean saltiness.
Mourvèdre is known in Spain as Mataro or Monastrell and is commonly grown in hot, arid regions influenced by the Mediterranean Sea. The grape variety likes warm, dry climates and has small, thick-skinned berries – the textbook combination for making big red wines with intense color and higher tannin levels in Spain, France, Australia, South Africa, and Texas. Mourvèdre typically produces dark, rich wines with black and red fruit aromas and flavors, including chocolate covered cherries, black plums, blueberries, and mulberries. Wine producers around the world have taken advantage of Mourvèdre to produce rich, deeply flavored blends, especially with other Rhône-style grapes like elegant red-fruit Grenache and structured black-fruit Syrah. These blends are most often labeled as GSM's (M being the Mourvèdre part) and are becoming common in Texas tasting rooms.
Lost Oak Winery Mourvèdre 2021 Texas High Plains was aged in used American and French oak barrels for 19 months giving a delicious red showing spicy aromas of cardamom, white peppercorn, tart cherry, and sweet tobacco with notes of espresso, dark cocoa, and smoke. There are ripe medium tannins on a long, savory finish.
Bodegas Volver Tarima Hill Estate Old Vines Monastrell 2018 DO Alicante Spain is 100% Monastrell hand-harvested from 50-90 year-old vines. The wine was aged 14 months in primarily new French oak barrels to give a bouquet of cherry fruit and notes of creamy vanilla and licorice, and flavors of blackberry, cherry, and plum with an elegant moderately tannic finish.
Although Tempranillo is hailed as the premier red variety in Rioja, Spain's most celebrated wine region, there are three other red grapes that play important supporting roles: Graciano, Garnacha (Grenache), and Mazuelo (Cariñena or Carignan). Graciano is used primarily for blending with Tempranillo to enhance color, flavor, and tannin profile.
Brennan Vineyards Graciano 2019 Texas High Plains is a blend featuring 79% Graciano, 13% Carmenere, and 8% Cabernet Sauvignon. The grapes were fermented in SS tanks or macrobins and the wine aged in mostly used American and French oak barrels for 16 months. This blend offers blackberry and cherry cola aromas with notes of saddle leather, plus flavors of cherry or blackberry cobbler and nuances of bacon and woodsmoke.
Bodegas Diosares Graciano 2019 DOCa Rioja Spain represents an unusual situation when a Rioja wine does not contain Tempranillo. The fruit for this 100% Graciano was hand-harvested, fermented in temperature-controlled SS tanks, and aged in French oak barrels for 12 months. Bodegas Diosares produces expressive and accessible wines like this dark, rich Graciano with blackberry and plum fruit, notes of leather and toasted oak, plus ripe earthy tannins on a lingering finish.
Comments
Commenting has been turned off.