February 28, 2018 | Our Story | Carl Hudson
TWGGA's Wine Press Award 2018-A Surprise and an Honor
The 2018 Texas Wine and Grape Growers Association annual meeting was held last week (22,23,24-Feb-2018) in Irving (Los Colinas area), TX, at the Irving Convention Center. This was the largest TWGGA meeting ever, both in terms of attendees and exhibitors. These meetings represent, to me, at least, a wonderful Texas Wine Industry "Family Reunion," one where you have a great time and get to drink a lot of good wine with the people who grew the grapes and made the wine. This year was no exception. However, there was one big difference for me as I was awarded the TWGGA Wine Press Award 2018. WOW!
The traditional TWGGA Gala Dinner and Awards Presentation was held Saturday night at the OMNI Mandalay Hotel, the host hotel for the meeting. Folks dress up in their finery and look forward to a great time with good friends. There was an opening reception featuring Texas sparkling wines and passed hors d'oeuvres. About 6:45 the doors to the ballroom were opened and everyone found a seat at one of the beautifully-set tables. The new TWGGA President, Mike McHenry of Wedding Oak Winery in San Saba, opened the meeting and shortly thereafter Jet Wilmeth of Diamante Doble Vineyards in Tokio, TX, offered the invocation. It seemed most appropriate, since it had been raining throughout the entire meeting (Wednesday through Saturday), that Jet requested the Lord to stop the rain in the Dallas-Ft. Worth area and send it up to the Texas High Plains to drop some badly needed moisture where most of the Lone Star State's grapes are grown.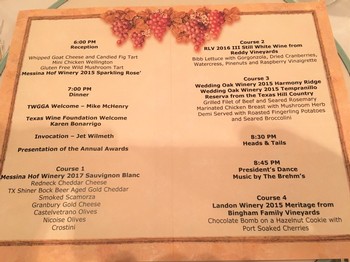 The food and wine selections were good ones, as shown in the accompanying photo.
During the dinner, the program called for presentation of the four awards given out by TWGGA each year. These awards and their recipients for 2018 are listed below.
T. V. Munson Award:
Named after Thomas Volney Munson of Denison, this award recognizes exemplary contributions to Texas grape growing. This was awarded to Kirk Williams of Texas Tech University for his role as instructor for the Viticulture Certificate Program that has provided essential education to so many folks currently working in the Texas Wine Industry.
Louis F. Qualia Award:
Honoring the founder of Val Verde Winery in Del Rio, this award recognizes a pioneering spirit in a Texas winemaker or a grape grower. This was awarded to the husband-wife team of Howard Davies and Amy Sterling of Arche' Winery near St. Jo, TX. They are wonderful folks, good friends, and proud partners with their son, Grayson Davies, in producing wonderful wines in the Red River Valley region.
John E. Crosby, Jr. Award:
This award recognizes lifetime achievement in the Texas wine and grape industry. The 2018 Recipient was Gene Estes of Lost Oak Winery in Burleson, TX, proprietor, often-times winemaker, and very good friend.
Wine Press Award:
This award recognizes wine, food, travel and agriculture writers for outstanding coverage of the Texas Wine Industry. To my complete surprise and great honor, this was awarded to me, Carl Hudson of 4.0 Cellars in Fredericksburg, TX.
When TWGGA President Mike McHenry was announcing the Wine Press Award, he mentioned that the recipient held a Ph.D. in Organic Chemistry, and I thought, my gosh, how many of us in this room fit that description. As Mike continued, the folks at my table, as well as the neighboring ones, began to focus on me. I was totally taken by surprise! As I walked across the room to mount the stage, I tried to think of some appropriate words to say, but my mind was in such a swirl those words did not come easily. Once on stage with the prize in hand (a beautiful etched glass wine decanter), Mike directed me to the microphone. I was about as speechless as I can ever remember. And being speechless is a rare situation for those who know me, LOL. I finally summoned a few words accented with a lot of emotion, and then posed with Mike for the obligatory photographs.
Once back at my table, I shared the smiles, congratulations, handshakes, and several hugs with nearby friends. As the surprise began to wear off, I started thinking about what I would like to have said from the podium to thank TWGGA and so many friends gathered in the room for bestowing this honor upon me. On Sunday, as I drove back to Fredericksburg from the DFW area, I thought about all the right words that could have been said the night before, and decided to write my acceptance speech after the fact, so I could properly share it with you, the TWGGA board of directors, and all my friends and supporters in the Texas Wine Industry.
Ladies and gentlemen, Mr. President, Members of the TWGGA Board of Directors, and to the many friends and supporters I have in this audience, I wish to accept this award with a great measure of surprise and humble appreciation. I have been excited about the Texas Wine Industry for over 40 years, and have watched with joy and fascination as it has grown into a vibrant and productive entity. The enology and viticulture contributions to Texas agriculture have grown steadily, and the contributions to tourism have grown by leaps and bounds. This is a thriving, and rapidly growing industry which I am honored to support by my writing.
Having been involved in grape growing and wine making for over 10 years, and with the level of understanding that a Ph.D. in chemistry can bring to that effort, I have been able to address many topics in such a manner to help folks who visit our vineyards, tasting rooms and events better understand what we do. And with that understanding, hopefully comes a greater appreciation for what is actually involved in growing grapes and converting them into the wine that we all enjoy. It has been a wonderful experience to publish a lot of information about grapes, wines, vineyards and wineries over the past few years through Carl's Corner Blogs on the 4.0 Cellars website and via the Texas Wine Lover website.
But, to be honest, the most fun I have in writing about wine is telling stories about you, the people who make it all happen. Thank you for being the "crazy characters" that make these stories so much fun, and for allowing me the opportunity to actually tell your stories. For all that, I am truly honored to accept the TWGGA Wine Press Award for 2018. And, I will endeavor to continue to write the stories, posts and blogs that support our Texas Wine Industry. Thank you.
Comments
Commenting has been turned off.