February 23, 2022 | TWC Insider
TWC Is Smashing the Ceiling!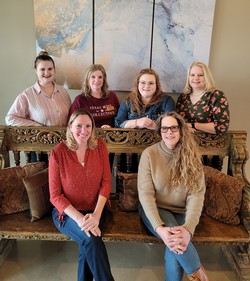 Groups of women have made their marks throughout history. Without the suffragettes who fought long and hard for almost a century, women in the U.S. wouldn't have won the right to vote with the 19th amendment. The women of NASA made famous by Hidden Figures literally propelled our space program forward. Three-fourths of the team who ultimately broke the German Enigma code were women called the "Bletchleyettes." And if you want to learn about some really bada$$ women, check out the Soviet "Night Witches."
And now TWC has its own gang of women ready to make its mark. With the departure of Dave Bryant (don't worry, he's still very much involved with TWC as a consultant) and the promotion of Beth Bayliss to GM, we can now boast an all-female management team. And these women are ready to roar. Let's meet them.
Beth Bayliss, TWC General Manager, team member since Fall 2014. She's our second female GM (the first one didn't last long), and she's held just about every management position available here. Though she jokes that her time in social work may have prepared her for working here, Beth values working with "the incredible team at TWC that brings so much passion and creativity to our industry and is helping to shape it." She's proud to be part of building an all-woman management team for one of the most successful wineries in the Texas Hill Country.
Cristol Corpus, TWC Director of Wine Clubs, team member since Spring 2015. Our TWC Wine Club is considered one of the best in the region, and Cristol (and Stacey, see below) can own that. Cristol has worked in the wine industry for 15 years and is proud to see Texas wines "earning the respect and popularity they deserve." What keeps people coming back to TWC? "Our ambiance, friendly and knowledgable staff, and variety of great Texas wines. I'm excited to see where we'll be in the next 15 years."
Stacey Dudley, TWC Wine Club Assistant Manager, team member since Spring 2016. Stacey has been in the wine industry for 20 years and remains passionate about it. She says, "TWC has a limitless future and, like a fine wine, will just keep getting better with age." Stacey is most excited about the new ideas and experiences we're generating here: "If I live to be 100, there will still be something new to learn about wine each day, and I'm glad I get to be a part of sharing this with others."
Amber Saidler, TWC Tasting Room and Events Manager, team member since Spring 2019. Amber has worked in the service industry for her entire adult life, and this gal knows how to throw a good party. She's excited to be part of "an organization that is always evolving and coming up with exciting ways to step up our game." For her, it's all about "fresh faces and new energy" at TWC, and she's thrilled to be working with this group of women.
Valerie Elkins, TWC Tasting Room Assistant Manager, team member since Winter 2020. Valerie hasn't met a number she doesn't like, and if you want to know data points, she's your gal. If anyone knows where we stand at the end of each day, it's Valerie. For her, TWC's future is "limitless," and its staff is "among the best in the business." She's excited to continue "building world-class customer experiences and investing in our staff to ensure the best customer service in the Hill Country."
Taryn Woodall, TWC Tasting Room Assistant Manager, team member since Fall 2021. Taryn is the new kid on the block, but she's already making a difference here. As a self-professed "wine nerd," Taryn hasn't met a question about wine she hasn't yet asked: "Where was this wine grown? Who grew the grapes? What's the weather like? What's in the soil? What created these flavors?" She loves learning about wines from the makers and growers and is excited to share what she knows with others.
With this remarkable group of women at the helm, you can be sure that TWC is not only in good hands but is also ready to lead the Texas wine industry to the next level. So, bookmark our Events calendar because you don't want to miss what's coming next. Now all this group of women needs is a good nickname….
Comments
Commenting has been turned off.