June 29, 2016 | Our Story | Carl Hudson
Our Tanks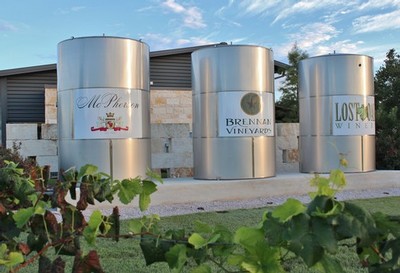 Often we are asked about the three large, shiny stainless steel (SS) tanks sitting in front of 4.0 Cellars. Where did they come from? What are they used for? Are they wine tanks? Do they have wine stored in them? After a bit of research and a few phone calls, the story behind the tanks began to emerge, and I can now share it with you.

In the beginning, there were lots of planning and permitting issues involved in building a facility like 4.0 Cellars. One of the key permitting issues involved the water source that would be used for drinking, cleaning, and toilet facilities at the tasting room. Dr. Pat Brennan, proprietor of Brennan Vineyards, was much involved in the water permit process. He learned that the Texas Commission on Environmental Quality (TCEQ) had a number of requirements for a water system that would serve the number of people expected to visit 4.0 Cellars. What ultimately resulted was the construction of a public water system that met the requirements equivalent to those of a city, like Fredericksburg or Johnson City.

While the water permit issues were being addressed, the original plan to use un-jacketed SS wine tanks to collect rain and well water that could be used at 4.0 Cellars fell by the wayside. Considering the TCEQ requirements, treating and managing such a collected water system became not only expensive, but burdensome. So, the plan to use the three SS tanks for a simpler, more "green" or environmentally friendly water system was not implemented.

At that point, the three winery owners of 4.0 Cellars, Brennan Vineyards, Lost Oak Winery and McPherson Cellars, decided to keep the three tanks and use them to showcase the logos of each winery. These are 4,500 gallon, un-jacketed SS tanks of the quality used in many wineries to age wine or store wine before bottling, when mounted in a temperature controlled winery building. The tanks were manufactured by Quality Stainless Tanks located in Winsor, CA, in Sonoma County. Quality Stainless is a well-known fabricator and supplier of all types of wine tanks and fermentation vessels.

So, the next time you drive by or visit 4.0 Cellars and see those three SS tanks shining in the sun, you will know the story about how they became the impressive, but empty, entryway logo signs for Brennan Vineyards, Lost Oak Winery and McPherson Cellars. Stop in to enjoy a tasting or glass of fine Texas wine, and appreciate all the effort that goes into building a beautiful and comfortable tasting facility in the Texas Hill Country.
Comments
Commenting has been turned off.