November 16, 2022 | Carl Hudson
Holiday Wine Selections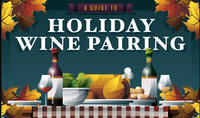 It's the middle of November and Thanksgiving week is rapidly approaching. Christmas and the New Year are just a few weeks further on. It's been a crazy, fast-paced year for Texas Wine Collective, and we've had opportunities to enjoy and share a lot of good times with you in 2022 featuring a number of delicious wines from our partners, Brennan Vineyards in Comanche, Lost Oak Winery in Burleson, and McPherson Cellars in Lubbock. Now it's time to consider wines that will accompany your special dinners and fun gatherings with family and friends. Here are some suggestions from the Texas Wine Collective portfolio that should brighten and enhance your holidays.
Two delicious white wines produced from blends of classic Rhône varieties will help start your parties or events in style. Lost Oak Winery Quartet 2021 Texas is a blend of mostly Viognier and Trebbiano that was aged in SS tank with no malolactic transformation, then blended and bottled at 14% ABV, 0% RS (dry). The wine offers a diverse range of aromas and flavors - green apple, white peach, honey, pear, and orange melon, with key lime and grapefruit notes on a lively finish. This pairs with shrimp cocktail, seafood paella, chicken carbonara, portobello mushrooms in white wine sauce, and white chocolate desserts.
McPherson Cellars Les Copains White is a blend of classic southern French varieties - Roussanne, Viognier, Marsanne, and Picpoul Blanc. It offers notes of lemon and orange blossom, peach crumble, and passionfruit that give way to a juicy, vibrant, minerally finish. Enjoy with grilled shrimp, raw oysters, fish tacos, baked or grilled chicken and turkey.
Two fuller-bodied whites will serve as dinner wines in place of more traditional Chardonnay. Lost Oak Winery Roussanne Reserve 2021 TX High Plains was aged for 6 months – 40% in new French oak barrels, 30% in neutral oak barrels, and 30% in SS tanks. The wine was bottled at 14.3% ABV, 0% RS (dry) and represents a nice alternative to Chardonnay. The name Roussanne derives from the French word "roux" meaning rusty or reddish-brown which relates to the grape skin color when the fruit is ripe. From oak barrel aging this wine offers vanilla, baking spices, and buttered toast aromas along with subtle smoke notes. It pairs with rich cheeses, shrimp, lobster, creamy risotto or pasta dishes, baked turkey, and gingerbread.
McPherson Cellars Roussanne Reserve 2021 TX High Plains was aged for 3 months in neutral oak barrels with frequent lees stirring and bottled at 13.7% ABV, 0.3% RS (essentially dry). This Rhône Valley origin grape variety offers a rich flavor and fuller-bodied mouthfeel, similar to Chardonnay, with aromas of muddled lemon, nectarine, and white flowers; flavors of fresh peach, ripe pear, and a hint of saltiness with oaky cream and vanilla notes. Pair this "Texas Sunshine in a Glass" with grilled or baked seafood, roasted turkey or ham, scalloped potatoes, and lobster or bacon mac and cheese.
Brennan Vineyards Dry Muscat is lighter-bodied wine that can be served as an aperitif and with appetizers. It has aromas of golden apples, magnolia blossom, and minerally notes of wet slate. The flavors include ripe honeydew melon, spiced pear, and white peach. The finish is lively with hints of lemon zest and white peppercorn. Pair with warm brie and bacon spinach dip, sausage-stuffed mushrooms, pasta salads, chicken or turkey pot pie, and key lime or lemon cream pie.
For those who prefer sturdier fare, three delicious red wines from TWC should meet the challenge. Brennan Vineyards Winemaker's Choice VII (Vol 7) N.V. Texas is the newest release in this popular series - a blend of Carmenere 50%, Malbec 25%, Syrah 15%, and Tempranillo 10%. Various cuvées were aged 12-36 months in mostly used American and French oak barrels; blended and bottled at 14.4% ABV, 0% RS (dry). Winemaker Todd Webster selects special cuvées from his barrel reserve program to blend this medium-full bodied wine with rich black cherry fruit, notes of woodsmoke, cream, and vanilla, and reasonably firm tannins on the finish. "W" is bold enough to pair with prime rib, roasted lamb or pork, or smoked ham or turkey.
Brennan Vineyards Reserve Protectors 2019 Texas is a new vintage from the "The Grape Frontier Collection" that honors frontiersmen who banded together to protect the Comanche county area. This fuller-bodied red contains mostly the Nero d'Avola variety from Brennan's Newberg Vineyard, one of the few plantings of this Sicilian-origin grape in Texas. The wine was aged in used American and French oak barrels (about 24 months); blended and bottled at 14.4% ABV, 0% RS (dry); and offers aromas of sour cherry, herbaceous peppercorn, stony minerality; flavors of tart raspberry with plum and dried fig notes; moderate tannins on a savory finish. Pair with baked or BBQ'd turkey, enchiladas with mole sauce, and baked ham.
Lost Oak Winery Holiday Red 2020 is a blend of grape varieties from Washington, Texas, and California – truly a wonderful blended American wine to spice up our favorite American Holidays. The cuvées were aged in oak barrels, blended and bottled at 14.3% ABV and a barely noticeable sweetness of 0.8% RS. Fresh fruit aromas and flavors of red cherry, wild berry, and plum allow this extremely popular red to pair with most holiday fare – turkey, ham, dressing, sweet potatoes, cranberry sauce, and those delicious pumpkin and pecan pies. Enjoy with tamales on Christmas Eve, too.
Sweeter wines are often popular during the holidays. Several delightful options from TWC are available. Lost Oak Winery Gewurztraminer 2021 Texas High Plains (prounounced "guh-voorts-trah-mean-er" – fun, huh?) is slightly sweet with 1.0% residual sugar (RS) and offers aromas and flavors of fresh flowers, lychee fruit, ripe pineapple, and key lime. It will pair well with any fruit salad or apple pie, pumpkin or sweet potato, and peach or pineapple bread pudding.
Lost Oak Winery Sweet Duet N.V. TX High Plains is 100% Trebbiano sweetened to 6.0% RS (sweet). This pale straw-colored wine offers aromas of tropical melons and sweet pea flowers; flavors of honeysuckle melon, ripe peach, and a hint of pineapple. This pairs with cheesecake, mascarpone cheese and honey on brioche toast, sweet potato or butternut squash, and toasted, candied pecans.
McPherson Cellars Sherry, Single Cream N.V. TX High Plains is a fortified wine made from white grapes, then aged for years in oak barrels heated by the hot Texas sun to take on a dark tea color and nutty, toasted aromas and flavors. Some of this wine is 12-13 years old. The nutty, creamy, caramel flavors and rich sweetness pairs with German chocolate or carrot cake, pecan pie, rich blue cheeses, and caramel-pecan bread pudding.
For those interested in a sweet red wine, try Brennan Vineyards Sweet ArrowRed. This soft and sweet blend has been bottled a bit lighter at 12.6% ABV and 4% residual sugar with aromas and flavors of sweet cherries and raspberries. It will pair well with cherry pie, plum tart, most chocolate desserts, and goes great with spicy Texas BBQ and Mexican tamales on Christmas Eve. Use it to make Sangria or mulled wine blends.
Share fun, fellowship, lots of great food, and plenty of Texas wine with friends and family. Be safe in your travels, and Happy Holidays!
Comments
Commenting has been turned off.