November 20, 2023 | Carl Hudson
Holiday Recommendations Nov-2023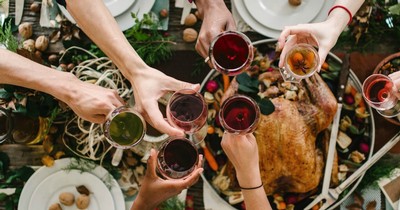 Thanksgiving week is rapidly approaching. Christmas and the New Year are just a few weeks further on. It's been an eventful, fast-paced year for Texas Wine Collective, and we've had opportunities to enjoy and share a lot of good times with you in 2023 featuring many delicious wines from our partners, Brennan Vineyards in Comanche, Lost Oak Winery in Burleson, and McPherson Cellars in Lubbock. TWC has even added offerings from Hye Cider to the portfolio. Now it's time to consider beverages that will accompany your holiday dinners and fun gatherings with family and friends. Here are some suggestions.
Two fuller-bodied dry white wines produced from classic Rhône varieties are a great start to your parties and events. Brennan Vineyards Viognier (Black Label) 2022 is 100% Viognier from Newburg Vineyard, Comanche County. The wine was aged in American and French oak barrels and bottled @ 14.1% ABV, 0% RS (dry). Viognier, considered the signature grape for Brennan Vineyards, is light golden in color and offers aromas and flavors of golden apples, poached pears, apricots, honeycomb, and sweet hay. The wine is fruit-forward with nuances of vanilla and caramel from oak aging. Pair with warm brie and bacon spinach dip, sausage-stuffed mushrooms, shrimp fettuccine, classic chicken pot pie, goat cheese bruschetta, and coconut or lemon cream pie. This Viognier will also be a great accompaniment with turkey or ham, green bean casserole, and cornbread dressing.
Lost Oak Winery Roussanne Reserve 2022 is 83% Roussanne from Six Harts Vineyard, Tokio, Yoakum County, and 17% Chardonel from JLor Vineyard, Burleson, Johnson County. The wine was aged for 9 months in 1-year-old French oak barrels (40%), neutral oak barrels (55%), and SS tank (5%); blended and bottled @ 14% ABV, 0% RS (dry). Winemakers Jim Evans and Angela Chapman enjoy producing this reserve bottling with attractive aromas of vanilla, spice, and buttered toast that highlight oak aging. Flavors include dried apple, vanilla, and ginger, with notes of sage and lavender. This fuller-bodied white, pairs well with richer holiday fare like honey-baked ham, smoked turkey, grilled chicken, and bacon-wrapped pork tenderloins. It also will enhance bacon spinach artichoke dip, grilled fish or shrimp, cheese enchiladas with avocado cream, and peach or apple cobbler.
Three delicious reds are suggested to enliven your holiday meals and gatherings. McPherson Cellars Counoise 2022 is sourced from Farmhouse Vineyards, Terry County. The fruit was fermented and aged in SS tank to retain brighter fruit flavors; bottled @ 13.1% ABV, 0.2% RS (dry). Counoise (coon-wahz) is a lesser-known red grape hailing from the Rhône Valley in southern France. It is lighter in body and color and often used for either blending or the production of rosé wines. Like most Rhône varieties it grows well in Texas and is becoming more popular in varietal bottlings. Counoise fits nicely into McPherson Cellars' portfolio of Mediterranean grapes. Kim McPherson and Spenser Igo use bright fruit flavors, moderate tannins, and natural acidity to produce this easy-drinking red with bright berry and red plum aromas and flavors followed by a hint of white pepper on the finish. Pair this versatile wine with charcuterie platters, chef salads, baked brie with strawberry jam and pecans, roasted turkey or chicken, or just enjoy a glass on the patio on a pleasant fall/winter evening.
Brennan Vineyards Winemaker's Choice Vol VIII N.V. is a proprietary blend that contains Tempranillo, Tannat, Cabernet Sauvignon, Syrah, and Ruby Cabernet. Each cuvée was fermented separately in SS tank and aged 10-34 months in used American and French oak barrels. The final blend was bottled @ 13.6% ABV, 0% RS (dry). Brennan's new winemaker Kevin Spivey maintains the tradition established by former winemaker Todd Webster using cuvées from a selected barrel program to blend an upper-level non-vintage wine. In addition to tart red cherry, red plum, black currants, and boysenberry jam aromas and flavors, there are hints of cedar cigar box, cinnamon, and vanilla spice. Notes of green olive and calcareous minerality nod to its Hill County origin. This pairs well with scalloped potatoes, any grilled beef or pork cuts especially bacon-wrapped filets or coffee-crusted ribeyes, and truffle French fries, and of course it goes great with Texas BBQ. This will be a good choice if you are one to finish off a big meal with a fine cigar.
Lost Oak Winery Holiday Red is a popular non-vintage blend back for the holiday season. Texas and California grapes, including Petite Sirah, Cabernet Sauvignon, and Petit Verdot, were fermented and aged 16 months in used oak barrels; blended, sweetened, stabilized, and bottled @14.4% ABV, 0.8% residual sugar (just a hint of sweetness). With color of dark plums; aromas of cranberry, black currant and hints of spice and creamy vanilla; flavors of blackberry and boysenberry with a touch of spiced fig, this finishes with moderate tannins and notes of sugar plum. This traditional offering with just a bit of sweetness pairs beautifully with your holiday fare – turkey, ham, dressing, sweet potatoes, cranberry sauce, and those delicious pumpkin and pecan pies. It also pairs with blackberry jam and goat cheese bruschetta, Christmas Eve tamales, and chocolate cream or meringue pie. You might even consider prime rib with this wine!
Sweeter wines are often popular during the holidays. Lost Oak Winery Holiday White 2022 includes Trebbiano 54% from Six Harts Vineyard and Riesling 46% from Diamante Doble Vineyards, both near Tokio, TX. The fruit was fermented cold and fermentation stopped to retain some natural grape sugar. After aging in SS tank, the two cuvées were blended, stabilized, and bottled @ 13.8% ABV, 2.5% RS (semi-sweet). This blend is light and crisp, and like its red counterpart will accompany your holiday meals and festivities. Aromas of candied pear and cinnamon apple lift from the glass. Flavors of clover honey and spiced fig jam with hints of crystallized ginger and subtle minerality follow to the finish. Pair with all your holiday meals and desserts, or warm with spices and apple cider for mulled white wine that fills your home with tantalizing aromas.
For an even sweeter option try Texas Wine Collective Sweet Muscat 2022. Muscat Blanc 100%, from Lahey Vineyards, Brownfield, Terry County, was fermented cool in SS tank; aged in SS tank with no malolactic transformation; sweetened, stabilized, and bottled @ 12.7% ABV, 4.2% RS (sweet). This wine is balanced by crisp acidity for easy drinking and pairing with many foods. There are floral aromas and flavors of melon, apple, and white peach. The acidity helps pair with spicy Oriental or Mexican cuisine, simple seafood dishes like shrimp scampi, classic salads with fruit – apples, pears, grapes, etc. – and lighter desserts like pineapple upside down or carrot cake.
One recommendation from Hye Cider is the Hye Heaven offering. This is a Cyser meaning it was made from apple juice sweetened with honey rather than sugar. During fermentation, the cyser was treated with smashed Turkish figs and toasted peppercorns to create a rich and complex flavor profile. It finishes at 9% ABV, about 3% residual sugar, and well-balanced acidity. Treat this like the Holiday White wine as it will accompany all your holiday meals and desserts, or warm with spices (cinnamon, nutmeg, cloves) for a delicious and aromatic mulled beverage.
Share fun, fellowship, lots of great food, and plenty of Texas wine with friends and family. We hope to see you again soon and be safe in your travels. Happy Holidays!
Comments
Commenting has been turned off.