May 18, 2022 | TWC Insider
HOT TIME Summer in the City…or Spring in the Hill Country!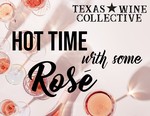 It's hot. And it's only May. It feels like we skipped over spring completely and landed in July. But we Texans know how to handle the heat. We close our blinds to keep the sunlight at bay, we feel the asphalt before taking our dogs for walks (or we should!), we move slowly from AC source to AC source (house to car and vice versa), we drive extra miles to park in shade, we put ice in our pets' water bowls, and we know better than to wear black (a rookie mistake). And we just deal with it. Here at TWC, we're seeing more and more people opting to enjoy a crisp rosé under the lush canopy provided by our crepe myrtles. Right now, we're serving the brightly acidic Brennan Malbec Dry Rosé, but I'm thrilled about our upcoming "extra" shipment for our Wine Club members who opt to receive it: In July, they'll be enjoying three fabulous bottles of rosé. (Pro-tip: If you're a member, sign up now to receive some of our most popular rosés…and if you're not a member, maybe you should be!) But if rosé isn't calling your name in this early summer heat, perhaps you need to give McPherson's Verde Verde a try. With its blend of Italian Trebbiano and Spanish Albariño, it demands to be enjoyed al fresco. Pair it with a picnic blanket, a pimiento cheese sandwich, and Pringles, and you'll be livin' right. Even better if you're on a boat. If you won't do anything but red despite the heat, give McPherson's Tre Colore a try. It's light and fruity and won't make you sweat any more than you already are. And you don't have to pair it with food…though you certainly can. It's good chilled, too (I know someone who even puts an ice cube in her Tre Colore on hot evenings). Do what you need to do to stay cool these days, and don't forget that wine makes everything more comfortable…so come on out to TWC and get you some!
Comments
Commenting has been turned off.