February 15, 2022 | Carl Hudson
Carl's Corner: Texas vs. France: French-origin Grape Varieties
This Carl's Corner post focuses on the 6 wines to be tasted at this Texas vs. France pairing event. A Rhône white blend, a Merlot red, and a Cabernet Sauvignon-based red grown and produced in Texas will be paired versus similar wines from France.
McPherson Cellars Les Copains Blanc 2019 TX High Plains
Morel Laudun Côtes du Rhône Villages Blanc 2020 S. Rhône Valley
Most wines, both red and white, from the southern Rhone Valley in France are blends. Grapes that thrive there in the arid, hot Mediterranean climate have become key varieties for Texas grape growers in many parts of the Lone Star State. The primary white varieties anchored in southern France include Roussanne, Clairette Blanche, Grenache Blanc, Bourboulenc, Muscardin, Picpoul, and Picardan. More recently, French vintners have begun to rely on Viognier and Marsanne, key grapes in the more northern climes of the Rhône Valley, to add character and flavor to their white blends. Kim McPherson and his talented assistant, Spenser Igo, are well-known for producing blends, both red and white, from grapes widely grown in the Mediterranean-like warm, arid climate of the Texas High Plains AVA.
McPherson Cellars Les Copains White 2019 TX High Plains is a classic-styled blend of white Rhône varieties - Roussanne 46%, Viognier 20%, Marsanne 13%, Picquepoul Blanc 12%, and Grenache Blanc 9%. The grapes were fermented separately at 57oF in SS tanks with no skin contact. The cuvées were aged in SS tanks before being blended and bottled @ 13.1% ABV, 0.3% RS (essentially dry). Les Copains in French means "the friends" or "the partners" and seems a most appropriate name for this wine that partners five Rhône varieties in a delicious white blend. Aromas and flavors of citrus, peach, apple, melon, and pear abound with a pleasant crisp, food-friendly finish. Enjoy with seafood, grilled chicken or fish, spring picnic fare, or with friends on a sunny afternoon.
Pierre Henri Morel Laudun Côtes du Rhône Villages Blanc 2020 S. Rhone Valley is another classically styled blend comprised of Grenache Blanc, Bourbelanc, and Clairette Blanche (a bit different than the McPherson wine). The vineyards have well-drained soils composed of sand, clay, and limestone. The harvested grapes are crushed in pneumatic presses, the must is fined for clarity, and fermentation occurs in temperature regulated SS tanks. After aging in SS tanks for 12 months, the wine was blended and bottled at 14.5% ABV. The wine offers floral notes with peach and aniseed aromas and flavors and has a citrusy zing on a well-balanced, mineral-rich finish. It should match well with fish and Mediterranean fare and fish dishes. Morel is best known for producing top-quality red wines from the Chateauneuf-du-Pape appellation, but also makes delicious and well-priced reds, whites ($16), and rosés from this nearby Laudun region.
Lost Oak Winery Merlot 2019 TX High Plains
Ch. Bel-Air Lussac Saint-Emilion 2018 Bordeaux
Almost all red wines produced in the famous French region of Bordeaux are blends of two or more grape varieties. Merlot is the key grape grown on the eastern side of the Gironde estuary, farther inland from the Atlantic Ocean, producing many famous wines from the appellations of Saint-Emilion and Pomerol. The mix of red grape varieties in all of Bordeaux is 66% Merlot, 22% Cabernet Sauvignon, 10% Cabernet Franc, and 2% others (Petit Verdot, Malbec, Carmemere). Vineyards in this area have been documented for well-over 1,000 years. Soils are an intricate mix of limestone, chalk, clay, silex (shattered granite), and sand, and temperatures tend to be cooler overall than those on the west bank (the Médoc, located closer to the Atlantic). Thus, Merlot and Cabernet Franc, which can ripen better in cooler, wetter weather than Cabernet Sauvignon, are the preferred grape varieties.
It is almost surprising that Merlot and Cabernet Franc have been planted in many areas of Texas and are doing well on limestone and sandy-loam soil types, in spite of summer heat and limited rainfall. Of course, these varieties thrive in the sandy loam soils and slightly cooler climate of the Texas High Plains AVA, but there are significant plantings in West Texas, Central and North Texas, and in the Texas Hill Country AVA. Both Merlot and Cabernet Franc tend to be less tannic with more opulent fruit aromas and flavors (black cherry, black currant) than Cabernet Sauvignon. They both blend well together and with Cabernet Sauvignon. Many Texas winemakers produce Bordeaux-styled blends using all three grapes, and often Merlot takes the primary position in the blends. When produced as a single varietal wine, Merlot can offer luscious fruit and a dark, rich structure that pairs well with many foods preferred by Texans – beef, BBQ, wild game, and most anything off the grill.
Lost Oak Winery Merlot 2019 TX High Plains – This wine is Merlot 100% - 60% from Diamante Doble Vyd, Tokio, TX, and 40% from Bingham Family Vyds, Meadow, TX (all Terry County). Winemaker Jim Evans and his assistant, Angela Chapman, fermented these two cuvées in SS tanks and then aged them for 18 months in a mix of American & French oak barrels. The blend was bottled @ 15.2% ABV, 0.0% RS (dry). The wine has a dark ruby color; aromas of ripe cherry, black raspberry, orange bell pepper, with vanilla and spice notes from oak aging; flavors of red cherry and red currant with hints of earth and cinnamon; subtle tannins frame a lingering finish with a dark cocoa note. Pair with roast beef, French dip sandwich with aioli, grilled flank steak with red wine garlic sauce, and dark chocolate.
Chateau Bel-Air Lussac Saint-Emilion 2018 Bordeaux is produced by Jean-Noël Roi whose family have owned the property since 1906. As noted above, almost every Bordeaux red is a blend of at least two grape varieties, and this is Merlot 70%, Cabernet Franc 15%, and Cabernet Sauvignon 15% (bottled at 14.5% ABV). Since this wine is a blend, differences to the LOW Merlot can be attributed to not only the place of origin of the grapes but also to the fact that it is a blend. However, Bordeaux varieties share many similar characteristics and Merlot is the dominant variety in the blend. Ch. Bel-Air produces very good wines at a reasonable price ($25). The 50-acre vineyard is planted on clay, loam, and limestone soils with average vine age of 35 years. Grapes are mechanically harvested, fermented in a mix of oak, concrete, and SS vessels, and aged 12-18 months 50% in tanks, 20% in new French oak barrels, and 30% in older barrels. About 11,000-12,000 cases produced each year.
Brennan Vineyards Cabernet Sauvignon 2018 Texas
Ch. La Tonnelle Haut-Medoc 2018 Bordeaux
Cabernet Sauvignon is the key grape grown on the western side of the Gironde estuary to produce many of the most famous wines of Bordeaux. Vineyards in this area, known as the Médoc, were originally planted on gravelly knolls positioned just a few hundred feet above sea level. The surrounding areas were mostly swampy until the Dutch became enamored of Bordeaux wines and in the 1700-1800's drained much of the area to establish more vineyards. Since most of the soils on the West (or Left) Bank are gravelly and provide good drainage, and overall average temperatures are slightly warmer, Cabernet Sauvignon tends to grow better here than either Merlot or Cabernet Franc.
Many areas in Texas have soil types that also support Cabernet Sauvignon. However, summer heat and limited rainfall vs that found in Bordeaux can present challenges to Texas grape growers. Higher elevation, cooler overall temperatures, and greater diurnal temperature variations, coupled with well-drained sandy loam soils position the Texas High Plains AVA as the primary region for growing Cabernet Sauvignon. Winemaker Todd Webster tends to blend fruit from the Texas High Plains with that grown in Brennan's Comanche County vineyards to produce delicious Cabernet Sauvignon bottlings.
Side note: Several hundred years ago, Cabernet Franc, another important red Bordeaux variety, was crossed with Sauvignon Blanc, the major white Bordeaux variety, to create Cabernet Sauvignon. The reason for the name is obvious. And, it should be noted that Cabernet Sauvignon is the most widely planted grape across the world's wine regions.
Brennan Vineyards Cabernet Sauvignon 2018 Texas – This wine by Todd Webster is a "typical" Bordeaux-styled blend of Cabernet Sauvignon 89% - 76% from Soleado Vyd, Seagraves, TX, Gaines Cty, and 13% from Newburg Vyd, Comanche Cty, TX; plus Carmenere 11%, Lahey Vyd, Brownfield, TX, Terry Cty. The grapes were machine harvested, fermented in SS tanks (3-4 weeks), aged 18 months in American and French oak barrels, blended and bottled @ 14.4% ABV, 0.0% RS (dry). Characteristics: deep ruby color; aromas of cherries and black currants, rhubarb, pipe tobacco, and smoke with delicate floral notes of violets; flavors of sour cherries, blackberries, and currants with notes of caramel, brioche and baking spices; fine balance between fruit & acidity with sturdy tannins on a long finish; perfect pairing with grilled and smoked meats.
Side note: Carmenere is one of the original 6 key grape varieties from Bordeaux but is rarely found there today. Most of the world's Carmenere is now grown in Chile (South America). Carmenere has many similar characteristics to Merlot, both in the vineyard and bottle.
Chateau La Tonnelle Haut-Medoc 2018 Bordeaux is owned and managed by Vincent Fabre and his family. He acquired the property in 1982. The vineyard is well-located in the Haut-Medoc appellation near the famous village of Saint-Estephe and is planted to Cabernet Sauvignon 60%, Merlot 35%, and Petit Verdot 5% on gravel and limestone soil. This is a fun comparison since the Brennan wine is also a blend and Carmenere is very similar to Merlot. So, differences in this wine vs. Brennan Cabernet can most likely be attributed to the place of origin of the grapes and winemaking differences. La Tonnelle is a very good quality Bordeaux available at a reasonable price ($20). Fruit was machine harvested, fermented by traditional methods, aged 12 months in French oak barrels (about 25% new), and bottled at 14.0% ABV.
Learn more from these references:
(1) www.Bordeaux.com/us/our-terrroir/Grape-varieties
(2) www.thewinecellarinsider.com/wine-topics/wine-educational-sessions/guide-to-wine-grape varieties-for-red-and-white-wine/ Good description of traditional Bordeaux varieties, changes over the past 200 years, and 7 new varieties approved to help deal with global warming issues.
(3) www.winefolly.com/deep-dive/what-grape-varieties-make-up-a-bordeaux-blend/
(4) https://fr.m.wikipedia.org/wiki/Vignoble_de_Bordeaux
(5) https://en.wikipedia.org/wiki/Rhone_wine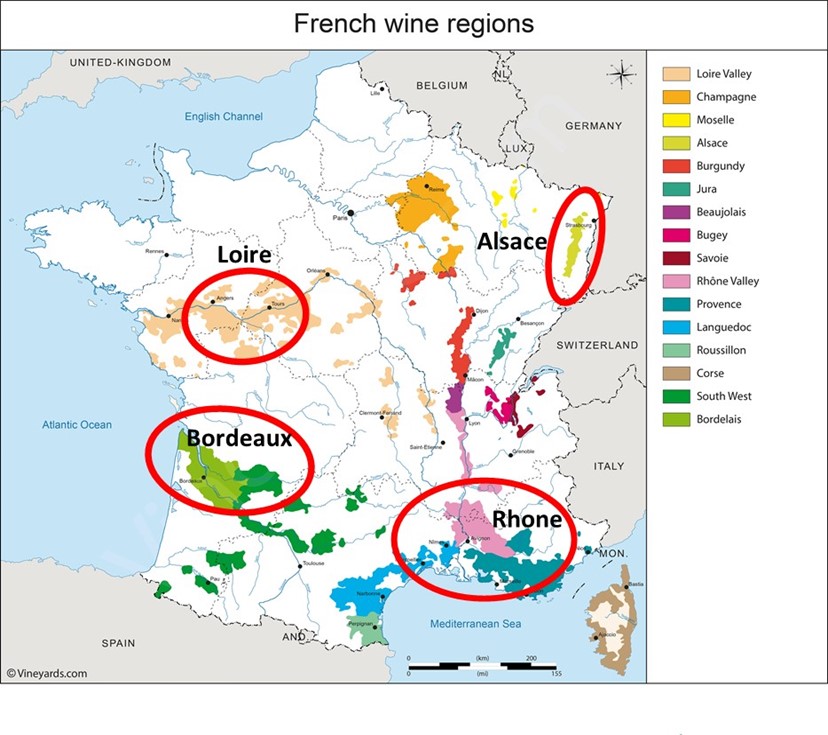 Comments
Commenting has been turned off.