July 9, 2022 | Carl Hudson
Carl's Corner - The Other Texas AVAs – Texoma, Mesilla Valley, Davis Mountains, and Escondido Valley
The Other Texas AVAs – Texoma, Mesilla Valley, Davis Mountains, and Escondido Valley
(#7 of 10 in a Series: "Texas AVAs – What and Why?")
Texas has eight U.S. American Viticultural Areas (AVAs) as shown in Figure 1: Bell Mountain AVA #55; Mesilla Vly AVA #100; Fredericksburg in the THC AVA #125; Texas Hill Country AVA #136; Escondido Vly AVA #141; Texas High Plains AVA #144; Davis Mountains AVA #155; and Texoma AVA #185.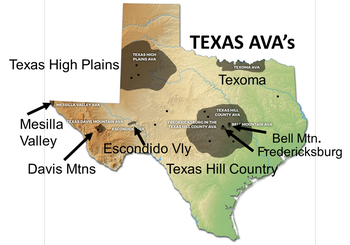 Figure 1. The Eight Designated American Viticultural Areas (AVAs) of Texas
The Other Texas AVAs
Texoma AVA was named after Lake Texoma that, along with Red River, forms a portion of the border between Texas and Oklahoma north of the Dallas-Ft. Worth metroplex. Texoma AVA was approved by TTB in 2006 as U.S. AVA number 185 of the current 261 (as of 09-Mar-2022). The AVA includes approximately 2.3 million acres or 3,650 sq miles, and parts or all of Cooke, Montague, Fannin, and Grayson counties.
The soil types are essentially silty loam and clay as expected in an alluvial plain along a major river basin. Elevation ranges from about 425 ft at the lake edge southward to about 1,320 ft at the rim of the river canyon. This elevation range provides some variation in soil type and temperature across the AVA. The climate is classified as humid, sub-tropical with reasonably temperate winters, warm to hot summers, and generally even rainfall over the seasons.
Diurnal temperature variations of 20-30oF are common over the AVA. Vine and bud damage from early spring frosts is a common risk in the AVA, so later budding varieties like Cabernet Sauvignon and Mourvèdre are less risky than earlier budding varieties like Tempranillo, Merlot, Pinot Noir, and Chardonnay.
There are a number of wineries in the AVA that benefit from proximity to the major metropolitan areas located some 60-100 miles south along Interstate 20, and the cities along Interstate 35 and U.S. 75 heading north into Oklahoma. Visitors from Norman and Oklahoma City, OK, also frequent wineries in the area.
This rich agricultural region along Red River is well-known for many native American grapevine species. This earned the area a nickname of 'grape paradise' from ampelographer Thomas Volnay Munson who roamed the area extensively in the late 19th century. Munson was born in Texas, studied viticulture in Kentucky, and eventually settled in Texas near Denison in 1876. He established his own vineyard with many new grape varieties developed from his crossing experiments and maintained this vineyard not only as part of his lifelong research studies but also as a nursery business.
During the late 1800's, the phylloxera epidemic was devastating most of the vineyards in Europe. The phylloxera is an aphid or root louse that literally sucks the life from a vine by damaging tube-shaped xylem cells that normally move water. The result is little or no sap and nutrient flow can reach the upper portions of the plant from the damaged roots, ultimately causing the vine to die. These phylloxera critters were native to the U.S. where vines had developed a basic immunity to them. However, when European explorers took American vines back to plant in their homelands, the phylloxera began to severely damage vines and destroy vineyards planted with Europe's native vitis vinifera species.
T.V. Munson, as part of his research efforts, and while in communication with several European researchers studying the phylloxera epidemic, developed a workable solution to the problem by grafting vitis vinifera budwood onto native American rootstocks, many of which were native to Texas. Munson's efforts earned him an unprecedented honor, the Ordre du Merite Agricole from the French government, a title first awarded to Louis Pasteur just five years earlier.
Today, most of the vines in Europe, the U.S., and many other parts of the world, are grafted onto phylloxera resistant rootstocks, many of which can trace their origins to the original Texas vines used by Munson. Some of Munson's grape varieties are maintained in his original vineyard near Denison stewarded by the viticulture department at Grayson College. And, to recognize exemplary contributions to Texas grape growing, the highest honor presented each year by the Texas Wine and Grape Growers Association is the T.V. Munson Award.
Mesilla Valley AVA was approved by TTB in 1985 as U.S. AVA #100 of the current 261 (as of 09-Mar-2022) covering 280,000 acres or 438 sq miles. The AVA is located at the far western tip of the Texas border north and west of El Paso and is shared with, and mostly located in New Mexico. It runs along either side of the Rio Grande River and includes parts of Dona Ana County, NM, and El Paso County, TX.
Spanish explorer Don Juan de Oñate arrived in the area in 1598 and named a Native American village in the river valley Trenquel de la Mesilla, meaning 'little table', in reference to the small plateau on which the village sat. The name became synonymous with the valley – helping meet a stated requirement for the creation of an AVA title.
Viticulture began in nearby El Paso as early as 1650 to supply the Catholic missions with sacramental wines. However, grapes were not planted in the Mesilla Valley until the early 20th Century near the town of Doña Ana, NM. The climate in the Mesilla Valley is dry and hot and grapes planted there tend to be drought resistant and can survive hot summer temperatures. Cabernet Sauvignon, Zinfandel, and Syrah are the most common grape varieties planted here. Some growers are beginning to experiment with more-exotic grape varieties such as Gewurztraminer and Tempranillo at higher elevations.
The Mesilla Valley AVA reaches up to 4,300 ft above sea level, providing significant contrast in range of elevation resulting from the Organ Mountains to the west and the Rio Grande River to the east. This higher elevation results in significant diurnal temperature variation throughout the year. Since this AVA is classified as a classic continental climate, winter and spring temperatures fluctuate between 70-30oF while daytime summer temperatures range to 100oF or higher. Providing some heat relief during the growing season are breezes funneled along the Rio Grande to allow grapes to better retain natural acidity during the ripening process.
The Mesilla Valley is very dry, with annual average precipitation of only 10 in, the majority of which falls in the eastern Texas portion of the valley on the slopes of the Franklin Mountains. The landscape in Mesilla Valley was carved out by flooding in the Rio Grande, and soils in the area are typical of their alluvial origin: sand, loam, and clay, along with sedimentary deposits from the nearby mountain ranges. Overall, the soils have moderate depth and drain reasonably well.
Davis Mountains AVA was approved by TTB as #155 (of the current 261, as of 09-Mar-2022) at the close of 1999, the last U.S. AVA recognized in the 20th century. The AVA covers 270,000 acres or 422 sq miles and is located in Jeff Davis County in the Trans-Pecos region of West Texas. It has been described as a mountain island where the climate is cooler, slightly wetter, and more biologically diverse than the surrounding Chihuahuan desert. Vines can take advantage of cooler temps at higher elevations that range between 4,500 ft and 8,300 ft above sea level. Rainfall is limited, but with irrigation some terrific quality grapes can be grown.
The Davis Mountains were formed during a monstrous tectonic and volcanic event that also formed the front range of the Rocky Mountains to the north. The porous soils offer excellent drainage and are composed of granitic, porphrytic, volcanic, and limestone materials.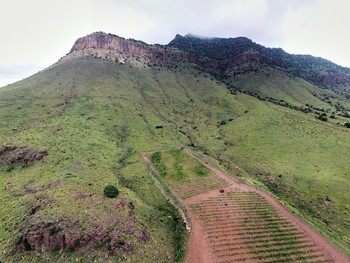 Figure 2. Blue Mountain Vineyard planted by Sharp Family Vineyards
in the Texas Davis Mountains AVA (Hill Country Light photo
by Miguel Lecuona, used with permission)
Historically some marvelous wines, primarily Cabernet Sauvignon from a vineyard established by Gretchen Glasscock, were produced from grapes grown in Davis Mountain vineyards situated over a mile high. Because of the rugged, isolated nature of the area with few permanent residents and a corresponding lack of an available vineyard labor pool, these early vines were ultimately abandoned. It is exciting that some new vineyard plantings are being established in these Davis Mountains. One example of that is Dan and Maura Brady Sharp, who in collaboration with Ben Calais, recently moved to the area and began to establish a new vineyard. This new planting of Cabernet Sauvignon christened Blue Mountain Vineyard (with reference to its predecessor and surrounding landscape) is expected to produce fruit that will provide a special taste of Texas wine.
The name Escondido Valley translates to "hidden" (escondido) valley. The AVA was approved by TTB in 1992 as U.S. AVA #141 (of 261 as of 09-Mar-2022). It is located near Ft. Stockton and includes 32,000 acres or 50 sq miles within Pecos County. The topography is unique as the valley floor is about 2,700 feet above sea level with nearby limestone-rich plateaus rising even higher. As expected for a shallow river valley, vineyard soils are mostly alluvial, composed of silty loam and clays that are very deep, well-drained, and moderately permeable. However, near the surrounding limestone mesas which dot the region, calcium-rich top-soils and more gravel are found.
As expected in this desert-like region, the climate is quite warm during the growing season, but due to the elevation and low humidity there is large diurnal temperature variation that cools the vines at night. There is very little rainfall, so irrigation is required for successful viticulture. There is not a winery within the boundaries of Escondido Valley AVA, but there is a major facility, Ste. Genevieve Winery, located in nearby Ft. Stockton that uses both AVA-grown and imported grapes to make wines.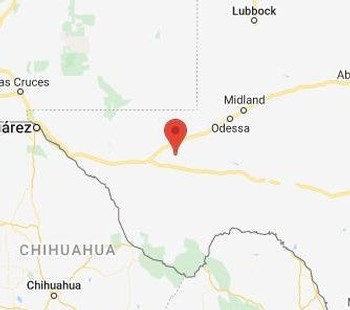 Figure 3. Map showing the location of Escondido Valley AVA in far west Texas
The history of Ste. Genevieve Winery and Mesa Vineyards began with the planting of vineyards between 1981 and 1984 by an American-French partnership which involved the University of Texas System and University Lands Office. The French partner was a consortium of American and French investors called Gill-Richter-Cordier, Inc. The winery was built in 1984 by Domaine Cordier of Cordier Estates (Bordeaux, France) and the winery and vineyard encompass about 1,300 acres. Nearly 1,000 acres of vines were originally planted, but just a few hundred acres of vines survive today. The revenue from this venture benefited both the The University of Texas and Texas A&M University Systems.
In 2003, Pat Prendergast came to Ste. Genevieve. Pat had worked with Gallo's international and European operations before moving to Texas. French winemaker, Bénédicte Rhyne, now at Kuhlman Cellars in the Texas Hill Country AVA, became Ste. Genevieve's winemaker in 2003. In June 2005, the winery and vineyard were purchased by an investment group under the name of Mesa Vineyards. A number of wines using both Texas and non-Texas grapes are produced under various labels, including Lost Maples, 5 Point, Goody Goody, Escondido Valley, Big Star, L'Orval, as well as Ste. Genevieve and Mesa Vyds. Higher-end wines like Chardonnay, Cabernet Sauvignon, and Pinot Noir were sold under the Peregrine Hill label. Unfortunately, as of 2022, the properties are for sale under bankruptcy conditions and are currently not producing wines.
On the subject of Texas AVAs, Pat Prendergast appropriately noted that Texas needs to further develop its interior appellations. Even though one can purchase inexpensive CA wine, inexpensive Napa Valley wines are rare, indeed. The same goes for finding inexpensive French wine, but Bordeaux appellation wines from France cost more. Many in the Texas Wine Industry believe it is important for the future to grow recognition for Texas AVAs, those existing and others to be established, to highlight and more successfully market better wines from the Lone Star State.

References:
Alcohol and Tobacco, Tax and Trade Bureau (TTB), Code of Federal Regulations –
27 CFR part 9.
The Wine Searcher website has info on most U.S. wine regions, including the Texas AVAs (for example; Escondido Valley, Texas - USA Wine Region | Wine-Searcher)
www.austineater.com/22671850/texas-wine-regions-grapes-guide
Wikipedia,com offers a significant amount of info for Texas wines in general, for the individual AVAs, and a very good discussion of Thomas Volnay Munson.
https://VintageTexas.com/blog/archives/3100 Vintage Texas Sunday 'Cyclopedia of Wine: Appellation of Origin/American Viticultural Area, 23-Jan-2011
Appellation America - An Introduction to the Texas AVAs, by Eleanor & Ray Heald, December 1, 2009
Other useful sources that contributed to this post include: Go Texan website, Texas Fine Wine, Texas Hill Country Wineries, and the Texas Wine and Grape Growers Association.
https://www.ttb.gov/wine/ava-map-explorer is loaded with fun info, including the boundary descriptions of all approved 261 U.S. AVAs (as of 09-Mar-2022)
Previous Carl's Corner Posts in this "Texas AVAs – What and Why?" Series include the following: all posted on www.texaswinecollective.com website
#1 What's An AVA, Mama? 05-Jan-2022
#2 What Does an AVA on a Wine Label Mean? 22-Jan-2022
#3 How is an AVA Established? 28-Feb-2022
#4 What is the Value of an AVA? 14-Mar-2022
#5 Texas Hill Country AVA 25-Apr-2022
#6 Texas High Plains AVA 09-May-2022
Comments
Commenting has been turned off.