November 29, 2022 | Carl Hudson
Blended Wines – Why and How?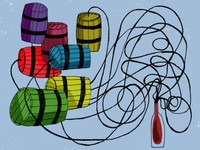 Texas Wine Collective – Carl's Corner
Blended Wines – Why and How?
A new Texas Wine Pairing event - World of Blended Wines - is scheduled for Sunday, December 4th, with sessions at 12:30 and 2:30 held in the TWC Event Center. Advanced reservations and ticket purchase are required.
The production of blended wines, those produced by mixing different grape varieties together in the final wine, goes back thousands of years. One of the key reasons for blending, then and to a large extent now, is to avoid loss of fruit due to calamities – weather, diseases and pests. The goal has always been to have a successful grape harvest to make the final product - wine!
A good place to start this story is Bordeaux, France, where almost every wine, both red and white, is a blend of two or more grape varieties. Variable and unpredictable weather patterns in Bordeaux's cool, maritime climate was a key reason for growing different grape varieties to produce blended wines. For example, Cabernet Sauvignon, perhaps the most famous grape of Bordeaux, requires more sun, heat, and a longer growing season than does Merlot, the most widely planted grape of Bordeaux. So, when the weather cooperated with sunny, warm conditions and not too much rain, good quantity and quality of Cabernet Sauvignon could be produced. However, when the weather was not so ideal, Merlot typically produced better quality fruit and was used to a greater extent in the blended wines. Think of this as a type of "insurance in the vineyard" for farmers against vine diseases, pests, bad weather, and other calamities, even war.
Another reason for planting multiple grape varieties that will result in blended wines can be related to start-up issues in most of the world's wine regions. In California, for example, many European immigrants came to the Golden State in the mid-1800s seeking opportunity, land, and fortune. Many had agricultural backgrounds where grape growing was part of their livelihood. They brought with them grape cuttings from numerous varieties and planted them in vineyards, often side-by-side, to determine which varieties grew and produced best in this new environment.
Not only did the fruit from these interplanted vineyards provide answers as to the most optimum grape variety for the area, harvesting and mixing the various grapes together was a utilitarian method for producing ample quantity of wine for family needs and/or commercial sales. This practice carried on the tradition of "field blends" that has been a part of the wine world since the very beginning. Today, field blends are often produced as a novelty, but they are still a valuable tool for farmer-growers trying to establish vineyards in new locations with the goal of creating a measure of consistency and commercial success.
Field blends, from vineyards with interplanted varieties, were very important in Texas as the first significant grape plantings were made beginning in the early 1970s. Row crop farmers and other interested neophytes began planting different grape varieties to learn which ones would produce decent wines in the Lone Star State. There was a significant learning curve involved since Prohibition, 1920-1933, had basically devastated the Texas wine industry, and only a handful of vineyards remained in existence over those 40+ years. Val Verde Winery in Del Rio, founded by the Qualia family, survived prohibition by producing sacramental wines for the Catholic Church and grapes for home winemakers.
One of the major starting points for the modern Texas wine industry began in the 1950s when Dr. W.W. Yocum, a professor of horticulture at Texas Tech University, planted grapevines in research plots on campus. A decade later, during construction and expansion of the university, Professors Bob Reed, horticulture, and Clinton "Doc" McPherson, chemistry, saved some of the growing vines and planted them in their Lubbock gardens. They found the grapevines adapted well to the High Plains environment and expanded the plantings. The Texas Agricultural Experiment Station funded further research in 1968. McPherson and Reed planted many of these vines, and propagated others in 1972 in the Sagmor Vineyard south of Lubbock. Eventually this led to the founding of Llano Estacado Winery in 1976, the first winery in West Texas to go into production after Prohibition and the second oldest in the state. A number of "field blend' wines have been produced over the years.
In today's wine world, blending is often driven by the winemaker's desire to enhance flavor, aroma, and modify component contributions. Winemakers typically train and study to learn the art and science of blending, and many feel that a better blended wine can be produced than a single varietal wine. Here are some of the many reasons to produce blends.
Establishing a signature style Consistency for a vintage
Highlighting the terroir of a vineyard Balancing aromas and flavors
Modifying a wine's chemistry Managing wine inventories
Increasing a wine's favorable attributes or reducing its unfavorable characteristics
It is important to note that most wines produced in the world are blends and come from many of the most famous and well-known regions – see list below (regions - grapes).
France:
Red Bordeaux – Merlot, Cabernet Sauvignon, Cabernet Franc, Petit Verdot, Malbec
White Bordeaux – Sémillon, Sauvignon Blanc, Muscadelle
Champagne – Chardonnay, Pinot Meunier, Pinot Noir
Châteauneuf du Pape – a range of 18 different varieties, mainly Grenache, Syrah, and Mourvèdre
Provençal style Rosé – Cinsault, Grenache, Syrah, Vermentino (Rolle)
Italy:
Chianti – Sangiovese with optional Canaiolo, Colorino, and up to 15% Cabernet Sauvignon and Cabernet Franc
Super Tuscan – Italian blends with Merlot, Cabernet Sauvignon, Sangiovese, Syrah, and Cabernet Franc
Amarone – Corvina, Molinara, Rondinella, and other indigenous varieties
Soave –white from Garganega with Trebbiano, Chardonnay, and Pinot Blanc
Prosecco – frizzante-style sparkling wine made from Glera grapes, sometimes blended with others like Chardonnay, Pinot Bianco, Pinot Grigio, and even Pinot Noir
Spain:
Cava – Spanish sparkling wines from Macabeo, Parellada, Xarello, and Chardonnay
Rioja – famous Spanish reds based on Tempranillo with Garnacha, Mazuelo (Carignan), Graciano
Priorat – Spanish red blends from Garnacha, Syrah, Carignan, Cabernet Sauvignon, and Merlot
Portugal:
Port – famous Portuguese dessert wines from Touriga Nacional, Touriga Franca, Tinta Roriz (Tempranillo), Tinta Barroca, Tinto Cão, and others
U.S.A., Texas, and other States and Countries:
Meritage – a California (and U.S.) designation for wines produced from Bordeaux varieties; Reds - Cabernet Sauvignon, Merlot, Petit Verdot, Cabernet Franc, Malbec, and Carménère; Whites - Sémillon, Sauvignon Blanc, Muscadelle
GSM - Rhône Blend, similar to Chateauneuf-du-Pape wines produced from Grenache, Syrah, Mourvèdre, and sometimes others (U.S., Australia, South Africa)
White Rhône Blend – Marsanne, Roussanne, Viognier, Clairette Blanche, Grenache Blanc, Bourboulenc, and others
Without further belaboring the point of blended wines, the concept behind blending should be relatively clear along with some of the key reasons so many blends exist, even today, across the wine world, including Texas. So, on your next adventure to visit Texas wineries and tasting rooms ask about blends, taste them, and learn more about this important segment of our wine industry. Please recognize that our Texas winemakers are working hard at this "game" and endeavor, often through blends, to produce the best wines possible for our enjoyment.
Ultimate Wine Blending Guide: Learn The Art Of Mixing Wines, 10-Oct-2021, https://advancedmixology.com/bolg/art-of-mixology/wine-blending-guide#
The Secret History of Blending Wines by Laura Burgess, 4-Jan-2017, https://vinepair.com/articles/secret-history-blending-wines
What Is Wine Blending and How Are Wine Blends Made? by Oliver Hoss, 13-Feb-2021, https://wineloversmagazine.com/blog/what-is-wine-blending-and-how-are-wine-blends-made/
Famous Wine Blends by Madeline Puckette, https://winefolly.com/tips/famous-wine-blends/
Comments
Commenting has been turned off.