May 10, 2023 | Carl Hudson
BBQ and Wine – Getting Ready for Summer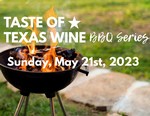 The next pairing in the Texas Wine Collective Texas Tasting Series is once again something new – Barbecue and Wine! On Sunday afternoon, May 21, Carl Hudson will host an event featuring 3 different types of meat barbecued with 3 different sauces and paired with 6 wines from our TWC partners – Brennan Vineyards, Lost Oak Winery, and McPherson Cellars. While tasting the BBQ and wines there will be a lively discussion of the concept and history of grilling and smoking meats, along with an exploration of what wines and what wine flavors may match with certain meats and BBQ sauce ingredients.
Please join us for either the 12:30 or 2:30 pm session. Reservations and advance ticket purchase are required for this fun pairing – see the TexasWineCollective.com website.
BBQ #1 – Chicken marinated in and grilled with a spicy, aromatic Hawaiian-style sauce flavored with tomato, pineapple juice, ginger, coconut milk, and soy and pepper sauces.
Wine One - McPherson Cellars Les Copains White 2021 Texas High Plains
A blend of 5 Rhône grapes, including: Roussanne 46%, Viognier 20%, Marsanne 13%, Picquepoul Blanc 12%, and Grenache Blanc 9%, all sourced from High Plains vineyards.
Wine Two - Brennan Vineyards Pinot Gris 2022 Texas High Plains
Pinot Gris 100%, Reddy Vineyards in Brownfield, TX, Terry County
The first step in pairing wine and barbecue is to identify the dominant element(s) in the dish and then look for a complementary element in the wine. The dominant element in a particular dish typically falls into one of these three categories, especially the sauce:
The primary ingredient 2. The cooking method 3. The sauce or side
For this event, the first pairing of chicken with a spicy, aromatic Hawaiian-style sauce honors the long tradition of grilled and smoked meats from the Hawaiian and Polynesian cultures. The sauce is flavored with pineapple juice, ginger, coconut milk, plus pepper and soy sauces.
Chicken will be prepared in a similar manner to the famous huli-huli chicken created in Hawaii after WWII by an American naval officer and a Hawaiian chicken farmer. Huli-huli chicken is prepared by barbecuing over mesquite wood basted with a sweet huli-huli sauce. Huli is the Hawaiian word for "turn," so the dish was originally prepared on a grill with a spit. Onlookers often shouted "huli-huli" when the roasting chickens were to be rotated and basted to cook the other side.
As huli-huli chicken became more poplar, its founders created a special sauce sold in stores and today huli-huli chicken can be found in restaurants, road-side stands, mini-marts, and drive-ins. At many locations, chickens are cooked on racks en masse and sold much like roasted chickens offered in U.S. grocery stores.
BBQ #2 – Pork marinated in and grilled with a spicy North Carolina-style sauce flavored with apple cider vinegar, honey, Worcestershire, pepper sauce, rosemary, and thyme.
Wine Three - Lost Oak Winery Tempranillo Barrel Select Bingham Family Vineyards 2019 TX High Plains – a blend of Tempranillo 79% and Merlot 16%, Bingham Family Vineyards, Meadow, TX, Terry County, and Cabernet Sauvignon 5%, Diamante Doble Vineyards Tokio, TX, Terry County.
Wine Four - McPherson Cellars Sangiovese 2021 Texas High Plains
McPherson's flagship wine - Sangiovese 100%, sourced from Lahey Vyds, Brownfield, TX, Terry Cty, and Sagmor Vyd near Lubbock, TX
Like in Texas, barbecue is serious business in North Carolina. This second pairing features pork prepared with the famous Eastern style Carolina sauce based on vinegar and black pepper with little or no tomato. The sauce is mopped onto the pork while cooking and often poured over the meat when served. Coleslaw with a mayonnaise-based dressing is the main accompaniment.
Because of the population diversity in modern day North Carolina, many styles of BBQ can now be found in the state's restaurants and festivals. Besides pork shoulder, pork ribs, often called baby back ribs, and pork tenderloins are common. Like in most areas of the country, various cooking options are found in North Carolina. Oftentimes "barbecuing" and "grilling" are used interchangeably. However, grilling more specifically refers to the use of dry heat from the source (wood, charcoal, gas) applied directly to the meat and that cooks the meat more quickly. Whereas, barbecuing, more often called smoking, is a slower process where heat is applied indirectly via hot smoke, providing a distinctly smoky flavor to the meat.
BBQ #3 - Beef brisket, first rubbed with a spicy mix of herbs, salt, and pepper, then smoked and grilled with a combination Kansas City-Memphis Crossover sauce flavored with ketchup, mustard, cayenne, apple cider vinegar, orange juice, and Dr Pepper.
Wine Five - Lost Oak Winery Petit Verdot 2021 Texas
A rich, palate pleasing version of Petit Verdot 100% from Sprayberry Vyd, Midland, TX
Wine Six - Brennan Vineyards Super Nero 2019 Texas
A masterful blend of Nero d'Avola from Newburg Vyd, Comanche Cty; Syrah and Malbec from Comanche Vyd, Comanche Cty; Montepulciano from Diamante Doble Vyds, Tokio, Terry Cty; and Carmenere from Lahey Vyd, Brownfield, Terry Cty.
Texas Monthly magazine has covered the Texas BBQ scene for many years, even publishing a Top 50 BBQ joints article most every year. A great article by Daniel Vaughn, 24-Jan-2014, tells a good story about the development of Texas BBQ, especially that of classic beef brisket.
Much of Texas BBQ is focused on beef brisket, where high impact grilling over wood heat, usually from mesquite or oak, and a less-sweet sauce based on vinegar and mustard are used to produce rather intense flavors. Beef is a heavier meat and with a rich sauce that often contains tomato and mustard, bigger red wines are often the best pairing options.
For this event, a modified approach to typical Texas BBQ was taken by combining the common vinegar and mustard base with components of well-known Kansas City and Memphis BBQ style sauces. The combination of ingredients includes apple cider vinegar, yellow mustard, Worcestershire, liquid smoke, garlic and onion, paprika, cumin, a touch of orange juice, and a bit of sweetness provided by Dr Pepper, itself a classic Texas-origin product.
Comments
Commenting has been turned off.