Library Tasting - Viognier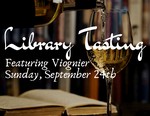 Not all libraries lend out books, but even those that don't can deliver spine-tingling experiences that speak volumes about the classics. It's time to check out library wines.
Join us for a TWC Library Tasting of Viognier.
Advanced Reservations are Required $45 and Wine Club Members Tickets $40 Click here to grab your tickets!